Goldman: Companies That Spent Money on Buybacks Are Going to Have a Tougher Time When Rates Rise
Spending cash on shareholders may come back to haunt them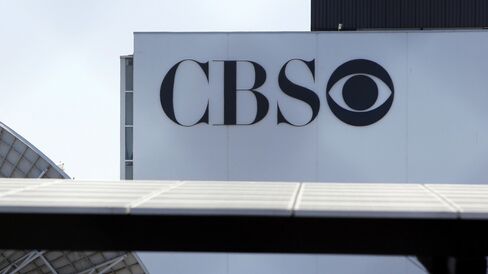 Goldman Sachs has a message for all those companies that have been spending their massive cash stockpiles on dividend payouts and share buybacks to reward their investors: It's time to rethink your strategy.
Goldman, whose analysts have previously criticized this type of corporate spending, is back with a new note on the topic.
Analysts, led by Elad Pashtan, note that U.S. companies have accumulated cash at a record pace since the financial crisis, with non-financial companies in the Standard & Poor's index of 500 stocks holding nearly $1.5 trillion of cash equivalents on their collective balance sheet. While years of interest rates hovering near zero meant that return-hungry investors rewarded companies that spent all that money on share buybacks and dividend increases, that may be changing as the Federal Reserve gets ready to embark on its first interest rate hike in almost a decade.
In this new era of higher economic growth and higher interest rates, the Goldman analysts argue, companies should shift their focus to spending on research and development, rather than make payouts to investors.
During periods of accelerating economic growth and rising interest rates, firms investing for growth (via capex + R&D or M&A) outperform firms returning cash to shareholders (via dividends and buybacks). The opposite holds true when the economy slows and interest rates fall: returns from firms engaging in capex and M&A wane, while firms prioritizing returning cash to shareholders outperform.
You can see the dynamic in the chart below.
While companies that return cash to shareholders are the most-rewarded during periods of low rates, those that spend on capital expenditures and research and development tent to do better once rates rise, Goldman said.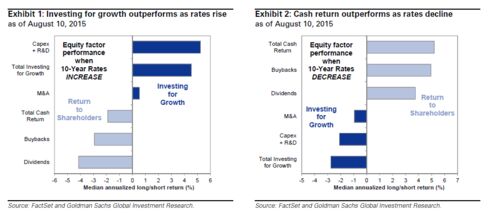 Some of the companies that Goldman highlights as investing the most in growth include General Motors, Amazon, Ryder System, Tenet Healthcare, and Newfield Exploration.
At the opposite end, the companies that have been the most focused on returning cash to shareholders include CBS, Starwood Hotels & Resorts, Coca-Cola, Anthem, and KLA-Tencor.
Before it's here, it's on the Bloomberg Terminal.
LEARN MORE