Ghana Credit-Rating Upgrade Is a Long-Term Goal, Terkper Says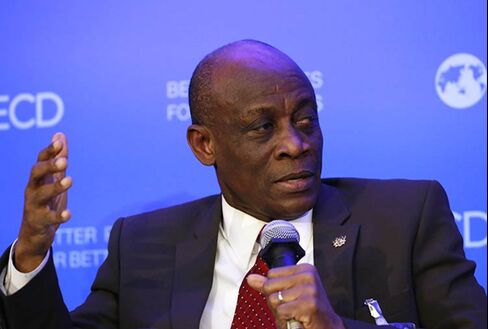 Ghana is making an improved credit rating a long-term goal after downgrades in the past year for West Africa's second-biggest economy, Finance Minister Seth Terkper said.
"My long-term goal, to regain my rating," Terkper said in an interview in London on Wednesday.
Moody's Investors Service cut Ghana's credit rating twice in the past year to B3, six levels below investment grade, and warned in March of further downgrades as tumbling oil prices cut government revenue. President John Dramani Mahama said on Wednesday that Ghana is on track for a budget deficit of 7.2 percent of GDP this year, lower than the figure of 7.3 percent given by Terkper last month.
The country took an emergency loan from the International Monetary Fund of almost $1 billion in April and the World Bank agreed to give it $220 million in transport and budget support earlier this month. Public debt has almost doubled since 2007 to reach 68 percent of gross domestic product.
Ghana, which started pumping oil in 2010, is contending with a more than 50 percent drop in crude prices since last year's peak and a 20 percent slump in the value of its currency against the dollar in the first half of 2015. The cedi gained 0.7 percent against the dollar to 3.9818 as of 3:31 p.m. in Accra.
Government debt is "a concern" though the country still plans to sell $1.5 billion Eurobond this year, Terkper said. "We are going to see a combination of debt management measures."
After posting the fastest economic growth in Africa in 2011, Ghana's expansion of 4 percent in 2014 was the slowest in 20 years. Growth will probably slow to 3.5 percent this year, before accelerating to 5.7 percent next year and 9.4 percent in 2017, Terkper said.
"Next year we are seeing the turnaround," he said. "We'll see a more diversified growth. Oil and gas will be the key one to give it a boost."
Before it's here, it's on the Bloomberg Terminal.
LEARN MORE