Gang Members Turn Builders as U.K. Developers Face Worker Crisis
As a teenager, Yasar Ugur spent his time hanging about on east London streets getting into gang fights. Now he's up before dawn to work on a construction site after a Berkeley Group Holdings Plc project gave him a fresh start.
"This has got a future," said Ugur, who is now 21 and a trainee site manager for London's biggest homebuilder. "I'm still young and this is the way I'm going to progress in life."
Ugur is one of 13 young people hired by the company through its Street Elite program, started in 2012 to address a chronic skills shortage in the construction industry. Almost 1 million building workers will be needed within 10 years in the U.K. as demand for new homes increases and older employees retire, consulting firm EC Harris estimates.
Construction staff were the most sought-after employees in the U.K. in July ahead of engineers and health-care workers, according to a report by the Recruitment & Employment Confederation and KPMG LLP. The number of job openings has almost doubled in two years, with vacancies in the three months through July climbing 37 percent to 26,000 from a year earlier, government data show.
Attracting young people like Ugur to the industry is key to government plans to boost homebuilding as values spiral to record highs. Almost 16 percent of those aged from 16 to 24 were unemployed in the three months through March and Chancellor of the Exchequer George Osborne wants businesses to create 3 million additional apprenticeships by 2020.
"If construction companies don't have the people they need, both infrastructure projects and house building will be constrained," said Kevin Green, chief executive officer of the REC. "This will have an impact on wider economic growth."
Sports Coaching
More than 200 people have completed the Street Elite program, with 80 percent going on to education, training or employment. The project uses sports coaching to prepare participants for work, by mentoring and training them to instruct children in government housing projects. Everybody who completes the nine-month program is offering a two-week internship at Berkeley.
"These guys often come from chaotic backgrounds. Street Elite gives them professional experience," said Matt Bell, head of external affairs at Berkeley. "The industry is faced with a chronic long-term skills crisis and we have to be inventive and a little bit brave in the ways that we tackle it."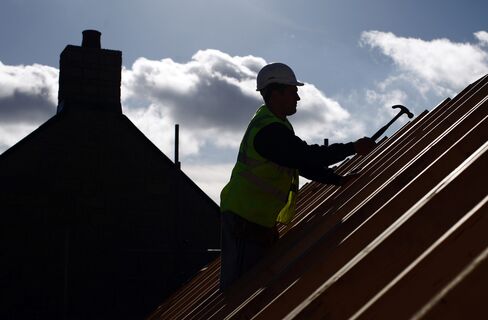 Skill shortages and a lack of worker availability are already slowing housing starts, according to a survey by Markit Economics and the Chartered Institute of Purchasing & Supply.
The availability of subcontractors dropped for the 25th straight month in July, the longest continuous period recorded for more than a decade, the survey shows. The rates charged by laborers rose that month at the second-fastest pace since the survey began in 1997, trailing only April.
Costs Climb
Construction of Lillie Square, an 808-home project in the Earls Court district, will cost 15 percent to 20 percent more than venture partners Capital & Counties and members of the Hong Kong-based Kwok family had expected, Capco CEO Ian Hawksworth said in a July 29 call with analysts.
"We're starting to see significant levels of construction price inflation," said Mark Farmer, head of the residential team at consulting firm EC Harris. Some "projects are either being delayed or the quality isn't being achieved. All of those are symptoms of a workforce that's overstretched," he said.
Other homebuilders are also finding new ways to hire staff. Persimmon Plc, the U.K.'s second biggest homebuilder by market value, is training former soldiers amid a shortage of bricklayers. The lack of workers is going to hurt the industry "for some time," Chief Executive Officer Jeff Fairburn told analysts last month.
While Ugur won an award for young achievers in the building industry in March, his start in the industry wasn't entirely without difficulties. He didn't bother to turn up for the first week of the Street Elite project, preferring to play computer games at home.
When he did finally attend, "I saw people who had their own problems, their own battles in life," he said. "That gave me more motivation, more confidence and I grew up."
Read this next:
Before it's here, it's on the Bloomberg Terminal.
LEARN MORE