It's easy to get down about prospects for American manufacturers these days, with talk of the strong dollar, sluggish global growth and China's yuan devaluation this week. Wednesday morning, at least, offered one data point to feel a little less glum.
Manufacturers hired 274,000 workers in June — more than at any time this year, and the 29,000 jump from the prior month was the biggest since September, according to Labor Department figures from the Job Openings and Labor Turnover Survey. That helped boost the hires rate for all industries to 3.7 percent, matching its highest since November 2007 and falling just short of the pre-recession average.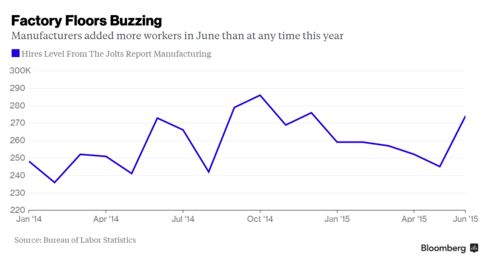 The figures follow a report last week showing manufacturers, who make up about 9 percent of the workforce, had the strongest net payroll growth in July since the start of the year.
The JOLTS data — a favorite of Federal Reserve Chair Janet Yellen — could help ease worries among policy makers about the headwinds for the U.S. economy and its factories emanating from abroad as officials weigh when to raise the benchmark interest rate for the first time since 2006.
Her colleague on the Federal Open Market Committee, New York Fed chief Bill Dudley, said Wednesday that while it's too soon to "draw firm conclusions" about what the news from China means for the U.S., it has "implications much broader than China."

Before it's here, it's on the Bloomberg Terminal.
LEARN MORE