Deutsche Bank Managers Cleared in Frankfurt Kirch-Deal Probe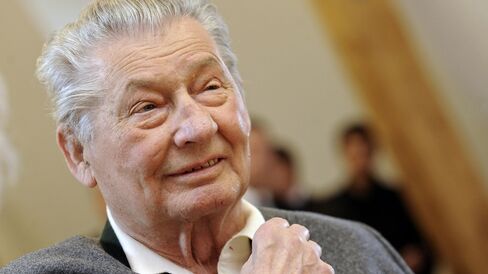 Frankfurt prosecutors dropped an investigation of Deutsche Bank AG's leadership saying they found no evidence the executives acted illegally when they settled a lawsuit by heirs of Leo Kirch for 925 million euros ($1 billion).
The officials opened a case earlier this year after shareholder Michael Bohndorf filed a criminal complaint claiming the management board in February 2014 wasted the bank's money by settling. The inquiry is separate from an ongoing criminal trial in Munich.
Kirch, who died in 2011, and his heirs had been fighting Deutsche Bank ever since former Chief Executive Officer Rolf Breuer questioned his creditworthiness in a 2002 Bloomberg TV interview. Kirch's media group filed for insolvency in the following months and Kirch claimed Breuer's comments caused its demise.
Prosecutors never disclosed the names of the subjects of the breach-of-trust inquiry tied to the settlement, but said they were management board members responsible for the deal.
"The probe found no evidence of illegal action prompting us to close the investigation," said Nadja Niesen, a spokeswoman for the Frankfurt prosecutors.
The inquiry was separate from a fraud case against co-Chief Executive Officer Juergen Fitschen and four former top managers currently on trial in Munich.
While Munich prosecutors have argued the bank leaders used illicit methods to fend off Kirch's legitimate claims, Bohndorf's argued Deutsche Bank would have won the Kirch litigation and should never have paid anything.
Deutsche Bank spokesman Armin Niedermeier declined to comment.
Before it's here, it's on the Bloomberg Terminal.
LEARN MORE