China Can Stabilize Yuan's Market Value, Central Bank's Ma Says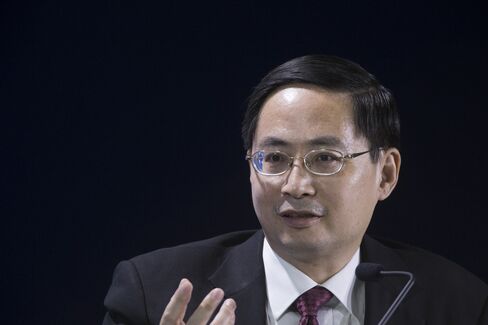 The People's Bank of China is "fully capable" of directly intervening in the foreign exchange market when necessary, Chief Economist Ma Jun said after the central bank stepped in to halt the yuan's biggest plunge since 1994.
The yuan's fluctuations over the past two days are "within a controllable range," and China "has no need or intention to start competitive devaluation," Ma said in an e-mailed statement on Wednesday. Ma is the chief economist at the PBOC's research bureau.
"There's no necessity for China to start currency wars with other countries to gain competitive advantage," Ma said. "In fact, if every country tries to devalue its currency, no one will benefit. China's current exchange rate is close to being balanced."
The yuan slid as much as 2 percent to a four-year low of 6.4510 per dollar in Shanghai on Wednesday, before recouping about half its loss in the final 15 minutes of trading. Authorities intervened to support the currency and told banks to limit some companies' dollar purchases, people familiar with the matter said.
China's surprise change to its currency regime is sending shockwaves through global markets. A measure of the region's 10 most-traded currencies excluding the yen is set to decline for a third year, its longest losing streak since 1997, amid signs the U.S. will raise interest rates for the first time in almost a decade. The PBOC cut its reference rate by a record 1.9 percent on Tuesday, triggering a global rout, and lowered it by 1.6 percent on Wednesday.
China's export growth will pick up in the "next half-year," and a recovery in domestic demand will help the country achieve the government's economic expansion target of about 7 percent this year, Ma said.
Before it's here, it's on the Bloomberg Terminal.
LEARN MORE