Cheap Debt Evaporates for Junk Companies in Oil's Cruel Summer
The weakest corporate borrowers are finding the days of free-flowing credit quickly evaporating.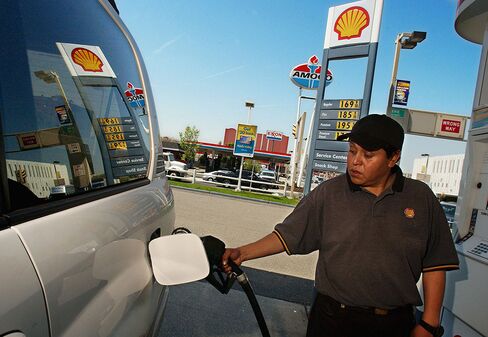 Days of easy access to high-yield bond market are over

Petroleum drillers face financing crunch from October
The weakest corporate borrowers are finding the days of free-flowing credit quickly evaporating.
The $39.6 billion of junk-rated bonds and loans issued since July is the least since the summer of 2008, according to data compiled by Bloomberg. For those that are coming to market, many are paying up or struggling to find buyers at terms they can stomach.
Appetite for energy companies, in particular, has vanished just as they need to refinance big credit lines they took out when oil was more than twice its current price.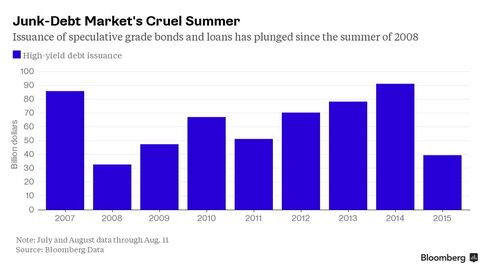 "There's been pushback in deals over the past couple of months," said Jack Flaherty, a money manager in New York at GAM USA Inc. "The weaker guys got spoiled, the market was buying anything and everything and taking the price. But the market has changed, and the turning point was the commodity cycle."
Natural-gas compressor Exterran Holdings Inc. said in July that it was withdrawing a $400 million note sale that would have paid down debt, and WPX Energy Inc. sweetened terms on a $1 billion bond deal that is being used to finance an acquisition. Even non-energy borrowers are feeling the heat, with Icon Health & Fitness Inc., the maker of NordicTrack treadmills, struggling to find buyers for a $220 million loan this week.
Bad Timing
The timing couldn't be worse for drilling companies that until now have been selling bonds to help forestall a cash crunch. With banks set for semiannual re-evaluations of energy-company credit lines, many of which will come in October, issuers may find access to debt markets throttled. The loans are based on the value of producing reserves.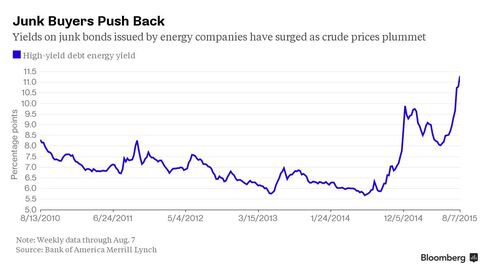 "The perceived risk is certainly higher in that part of the credit market," said Jack McIntyre, a portfolio manager at Brandywine Global Investment Management in Philadelphia. "Right or wrong, the energy sector is going to be placed at more of a risk premium."
The yield investors demand to hold junk bonds is 7.5 percent, the most since August 2012, according to Bank of America Merrill Lynch index data. Risky energy company securities yield a record 4.16 percentage points more than that at 11.7 percent.
Pulled Deal
Exterran was planning to use proceeds of its planned bond sale to pay down debt as it spun off its energy-equipment services and fabrication division into a new business. The Houston-based company said it plans to complete the transaction when the market recovers.
WPX issued bonds at yields that were as much as 1 percentage points higher than it was initially planning to pay, according to four people with knowledge of the matter. The Tulsa, Oklahoma-based company is using the proceeds to acquire RKI Exploration & Production LLC.
Icon Health, meanwhile, is struggling to find buyers for a $220 million loan at terms it's been offering. The deal for the Logan, Utah-based company would lower costs and help pay down bonds maturing next year, according to three people with knowledge of the matter.
While issuance is down and many energy borrowers are shut out of debt markets, borrowing conditions remain "favorable" for a majority of U.S. high-yield issuers, according to Fitch Ratings.
"Interest rates are still near historically low levels while refinancing and mergers and acquisition activity continue in earnest," Fitch analysts, led by Christopher Collins, wrote in a report Tuesday.
A Moody's Investors Service gauge of lender protections in North American high-yield bonds, where 5 indicates the weakest protections and 1 the strongest, declined to 4.37 in July from 4.25 in June.
Some companies are waiting for crude prices to stabilize before they issue debt, according to Jody Lurie, a corporate-credit analyst at Janney Montgomery Scott LLC in Philadelphia.
"It looks worse when you try to issue and can't than if you don't issue at all or you wait," Lurie said.
While some energy borrowers have already started negotiations with banks to renew their credit lines, the lowest-rated companies may face trouble in getting funding, according to Lurie.
"If there are firms that can't issue and need to issue, then that could be a problem for them," Lurie said. "The risk of default is higher."
Before it's here, it's on the Bloomberg Terminal.
LEARN MORE