Charts Strike Back as S&P 500 Turns Tide in Global Selloff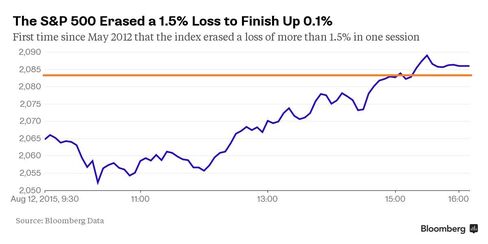 At least for today you can add China to the list of concerns that have failed to knock U.S. stocks for an extended loss.
Three hours after the S&P 500 careened through its 200-day moving average and erased its gain for the year, the gauge rallied back to wipe out the entire 1.5 percent retreat. It marked the first time since May 2012 that the benchmark index erased a loss of more than 1.5 percent in one session.
Though signs of fragility abound, the S&P 500 held its ground and remains locked in the tightest trading range since 1927. The rebound interrupted a global selloff that sent benchmark indexes down 1.6 percent in Japan, 2.4 percent in Hong Kong and more than 3 percent in Germany and France.
"The fact that the Chinese devaluation was out of the blue led to the initial selloff," said Michael Antonelli, an institutional equity sales trader and managing director at Robert W. Baird & Co. in Milwaukee. "The market is always keen to invent a headwind, especially given that we've been sideways for so long. It doesn't mean anything until we break this range."
The S&P 500's recovery was driven in part by technology companies erasing earlier losses. Apple Inc., which dropped as much as 3.4 percent, was up 1.5 percent by the close. Intel Corp. slid 1.1 percent before finishing with a 1.7 percent advance. Energy shares climbed 1.9 percent just three days after falling to a three-year low.
Corporate repurchases, which have emerged as one of the biggest sources of fresh cash in the stock market, played a significant role in the rebound. The Goldman Sachs Group Inc. unit that executes share buybacks for clients had its busiest day since 2011, according to a note from the firm's corporate agency desk. Based on the value of equities repurchased, volume handled by the bank set a record.
Rangebound Trading
The day was a microcosm for a year in which no retreat over any amount of days has gotten close to 5 percent -- something that's only happened three times since 1964. Gains have been muted, too. The S&P 500 hasn't closed up or down more than 3.5 percent from where it started the year as it vacillates between 2,040 and its May record of 2,130.82.
For investors like Scott Wren of Wells Fargo Advisors LLC, the news out of China is discouraging, but it's not enough to threaten economic prospects in the U.S.
"China is an issue, and they're concerned about their economy, but growth in the U.S. is dependable and we're going to see better things in Europe," Wren, the senior equity strategist who helps oversee $1.4 trillion at Wells Fargo Advisors in St. Louis, said by phone. "Stocks are fairly valued right now, and it's a valuation based on modest inflation and modest growth, not big growth around the world."
Frequent Rebounds
Wednesday's reversal was the second time in the past 12 sessions that the S&P 500's 200-day moving average has kept the index from a selloff.
On July 28, threatened with its longest drop since 2012, the benchmark index turned in the first hour after flirting with the key technical level. The result was the biggest intraday rally since March, with the S&P 500 rising 1.4 percent.
Wednesday's recovery came in stages. By about 11:20 a.m. in New York, Apple Inc. turned positive, followed by the Philadelphia Semiconductor Index at around 1:30 p.m. and the Nasdaq Biotechnology Index just before 2 p.m. The S&P 500 erased its loss for the day at 3 p.m.
"The more times a support level is tested the stronger you infer it to be," Katie Stockton, chief technical strategist at BTIG LLC said by phone from New York. "We were stuck in the mud in early March, retested later in the month, rallied, successfully retested in June and July, and we're essentially in that process still."
Before it's here, it's on the Bloomberg Terminal.
LEARN MORE