Casey's PGA Prep Starts With 362-Mile Bike Trip in Italian Alps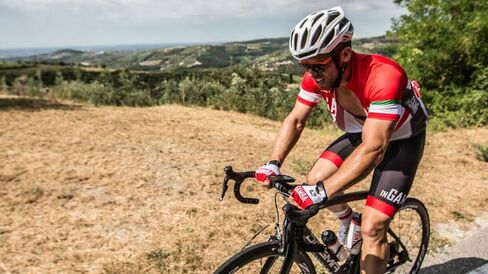 Paul Casey's preparation for this week's PGA Championship was far from ordinary.
Instead of pounding golf balls on the practice range or working out kinks in his putting stroke, the No. 27 player in the Official World Golf Ranking packed his cycling helmet and shoes and headed to the Dolomites in the Italian Alps.
The Englishman left his golf clubs at home as he spent 10 days pushing his pedals over some of the country's most challenging mountaintops. Casey covered 362.2 miles with 53,383 feet of elevation (583 kilometers, 16,271 meters) on the getaway with about a dozen others. He was the only golfer and that's the way he liked it.
"It was something that I'd wanted to do for a long time," Casey said in an interview while sitting on a wooden bench in a courtyard behind the stone clubhouse at Whistling Straits golf course in Kohler, Wisconsin, site of this week's PGA Championship. "It's my getaway from the day job. You can't think about much else when you're on the bike. It's very much my release, my escape."
Casey, who turned 38 a week before he embarked on the trip, returned from the Alps in time to tee off in last week's World Golf Championship-Bridgestone Invitational in Akron, Ohio, where he finished 17th. He shot 2-under par 68 in his first round after discarding his cycling shoes for golf spikes.
"I felt very strong last week," he said. "The legs felt great."
Form Slump
After falling to 169th in the world rankings in 2013 from a career-high third in 2010, Casey is climbing his way back after a divorce and injuries derailed his play. He dislocated his elbow while snowboarding in 2012, leading Nike Inc., his main equipment and apparel sponsor, to put a "no extreme sports" clause in his endorsement contract. The clause doesn't include cycling, he said.
"I'm not allowed to be too extreme," Casey said while bouncing his 11-month-old son, Lex, on his right leg. "Everything has its risks, but I err on the side of caution when I'm cycling. Accidents can be big on road bikes. I'll never be a great cyclist, but I do love it. For years and years I've hidden it away. But I'm keen to talk about it. It's part of who I am."
Kale Keltz, owner of Scottsdale, Arizona's Bicycle Haus, helped coordinate the trip and often rides with Casey.
"He's incredibly strong considering what his schedule is," Keltz said. "For him to show up with the form he does, it's pretty impressive. He climbs pretty well and likes to go downhill fast. As he's gotten older, he's not as crazy as he once was, but I still think it's in there."
Similar Demographics
While golf and cycling might seem like two vastly different sports, they attract similar participants, Casey said.
"It's the same sort of demographic as the golf crowd," he said. "You can spend lots of money on equipment and wear silly-looking clothes and spend five hours doing it if you want."
The Italian trip was far from a casual excursion. It cost about $8,000 and was organized by Mill Valley, California-based InGamba Tours, which was founded in 2011 by former professional cyclist Joao Correia, who grew up in Portugal and later became the associate publisher of Bicycling Magazine in New York. Correia's connections in the sport are deep and he passes them along to those who are willing to pay for his trips, like Casey.
Froome's Bike
Each member of Casey's group was given a $10,000 Pinarello Dogma F8 bike for the week, the same model Chris Froome of the U.K. rode in July to win his second Tour de France title.
The group included IndyCar driver Mike Conway and Phoenix construction company owner Tim DeMore, who races his $1.5 million track-only Ferrari 599XX when not cycling. It also included Eros Poli, who won a gold medal for Italy in cycling's team time trial at the 1984 Olympics. Poli also won the 15th stage of the 1994 Tour de France, where he was a teammate of Mario Cipollini, a 12-time stage winner. Casey proudly shows pictures of himself riding next to the 52-year-old Poli with the Dolomites as a backdrop.
"You are basically cycling as if you're on a professional team for the week," Casey said, two-week old stubble still visible on his shaved legs. "There's no racing though. If you don't fancy climbing, you get in the van and ride to the top and just do the descent instead. It's the ultimate experience."
On day seven of his trip, Casey rode over the Passo Giau, a 5.8-mile climb with 2,946 feet of elevation gain in Veneto in the Belluno Province. The climb has an average gradient of 9 percent, earning it a rating of hors categorie, a French term for "above category" on cycling's rating scale. The route has been used four times in the Tour of Italy since 2007.
With only one U.S. PGA Tour win -- the 2009 Houston Open -- to his credit, Casey has still made $13.4 million in his career on the course. The two-time English Amateur champion also won Britain's PGA Championship and the Abu Dhabi Championship on the European Tour in 2009.
Bouncing Back
This season has been Casey's best in the U.S. since 2010, when he had seven top-10 finishes and won $3.6 million. Casey has six top-10s so far in 2015, including a sixth at the Masters Tournament, and playoff losses at the Northern Trust Open in February and the Travelers Championship in June.
He finished fifth at the World Golf Championship-Match Play, losing to world No. 1 Rory McIlroy in the semifinal after getting sick overnight.
In a 14-month span from the 2014 Masters to the Memorial Tournament in June, Casey has risen to 36th from No. 100 in the world rankings. He credits his son, Lex, and the time spent on his bike for helping him refocus on his game.
"When I'm home, I've been not thinking about golf at all," he said. "I've just been hanging out with him. And that's what cycling does for me as well. It gets me completely away from the game. For years, I would go home and I wouldn't get away, I would still practice and have the putter in my hand at 10 o'clock at night and swinging the club in the mirror. To me, that's not really letting go."
Before it's here, it's on the Bloomberg Terminal.
LEARN MORE