Biotech Stocks Are on the Brink of a Correction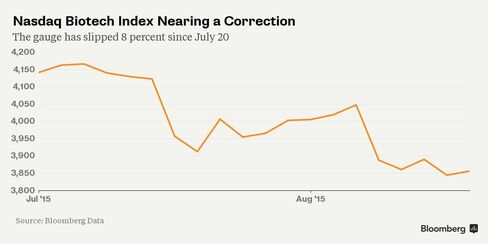 The bull run in biotechnology is having its worst month in more than a year.
Down in four of the last five days, companies tracked by the Nasdaq Biotechnology Index have fallen about 8 percent since July 20. They're in danger of joining more than half the stocks in the Standard & Poor's 500 Index nursing losses that meet the definition of a correction.
Like cable television and movie stocks that plunged last week, biotech shares have been almost completely immune to weakness for more than six years, rising more than sixfold since March 2009. Weakness in the groups has been a troubling sign in an equity market where the Dow Jones Industrial Average has dropped in nine of the last 10 days.
"If investors have to sell them, there's no one willing to buy," said Bill Schultz, who oversees $1.2 billion as chief investment officer at McQueen, Ball & Associates Inc. in Bethlehem, Pennsylvania. "We're seeing a lot of those names get punished."
More than 100 percent of this year's increase in the S&P 500 is attributable to two sectors, consumer discretionary and health-care. Now they're down 2.5 percent and 3.1 percent in the last five days, the most of any in the S&P 500. For health stocks it's the worst month since August 2013.
Mass Correction
More than half the S&P 500 are trading more than 10 percent below their 52-week highs, Bloomberg data show. The energy and raw-materials groups in the benchmark equity gauge are in corrections, while telecommunications shares are within 1.4 percent of joining them.
To Tobias Levkovich, chief U.S. equity strategist at Citigroup Inc., narrower gains for U.S. stocks are not in and of themselves a signal that "something is amiss and share prices are doomed to decline more broadly."
Assuming the market's breadth will chart the course for stocks "almost dismisses the whole concept of rotation," or selling shares that have risen the most and buying those that have fallen, Levkovich wrote in a July 31 note to clients.
Beyond the breadth argument, there are also signals in the bond market suggesting the S&P 500 may be due for a pullback. The extra yield bond investors demand over Treasuries has expanded by 0.48 percentage point from a year ago, the most since 2012, even as the benchmark U.S. equity gauge rallied.
Widening Spreads
More than 70 percent of the time since 1996, as spreads widened as much as they have since April, the S&P 500 has fallen, with the average decline exceeding 10 percent, data compiled by Bloomberg show.
Waning breadth is the biggest concern for many investors, including Jim Paulsen, chief investment strategist at Wells Capital Management Inc. The breakdown in the market's best-performing stocks reminds him of what happened before the dot-com crash, when six computer and software companies accounted for 55 percent of the S&P 500's gain over the 12 months leading up to its peak.
"You're seeing a fairly bigger move down in what has been the leadership," Paulsen, Minneapolis-based chief investment strategist at Wells Capital Management, which oversees $351 billion, said by phone. "It really says something about the overall market starting to crack. Maybe it's saying we need to have a correction before we go forward."
Before it's here, it's on the Bloomberg Terminal.
LEARN MORE