As Peso Falls, Mexico's Tortilla King Wins Selling Wraps in U.S.
Gruma's revenue in dollars keeps growing in peso terms

Its bond returns are almost double the emerging-market average
Bondholders of the world's largest tortilla maker are warming to the fact that a lot of burrito wrappers, just like gold and silver, are priced in dollars.
The bonds of Gruma SAB have returned almost double the emerging-market average this year. In July, the company reported that 73 percent of its second-quarter sales came from outside Mexico, helping insulate it from a plunge in the peso to a record low.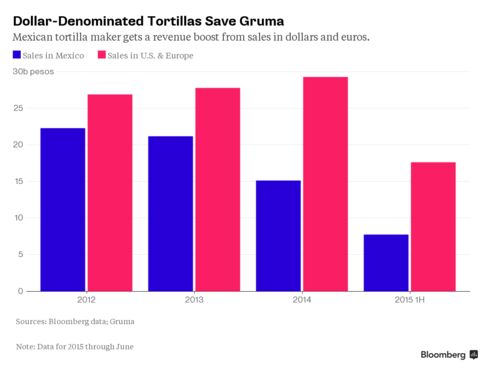 Gruma, which almost collapsed in 2009 because of wrong-way bets on currency derivatives, is now thriving after expanding international sales over the past six years. The company, which sells tortillas in the U.S. under the Mission, Guerrero and Calidad brands, has expanded factory capacity in the country this year and in March acquired Spain's Azteca Foods to bolster its presence in Europe.
"Gruma figures are still quite strong," Eric Janca, who helps oversee 1.7 billion euros ($1.8 billion) of corporate bonds including Gruma notes at Hypo Capital Management AG, said from Vienna. The dollar-based revenue, "along with their profitability, has definitely had an impact."
The company's $400 million of bonds due in 2024 have returned 5.5 percent this year, compared with an average 2.4 percent for similarly rated emerging-market corporate securities, data compiled by Bloomberg show. The peso gained 0.1 percent Wednesday as of 2:25 p.m. in New York after falling to a record closing level last week.
"The depreciation of the peso gives us an advantage," Gruma said in an e-mail. About 90 percent of the company's debt is in dollars, which has a "natural hedge given the assets we have in the U.S."
Before it's here, it's on the Bloomberg Terminal.
LEARN MORE