The dehydrator has always been a provision maker, rewarding the do-aheads. This may explain why I've never wanted one, and why the most patient, proficient users of dehydrators tend to be trail cooks. To most of us it's a toy, but the trail cook desiccates with purpose: to make food small, light, and durable so it can be transported and consumed efficiently, with low risk of spoilage.
My friend Logan, who works to repair broken trails in upstate New York, uses his little Nesco Snackmaster dehydrator about once a month to make different meals in bulk, like red curry (a dried paste built from scratch, to which he adds coconut cream powder and dehydrated precooked vegetables). I've always found this impressive, but I'd never considered adding a machine to my family of appliances—too big, too specialized.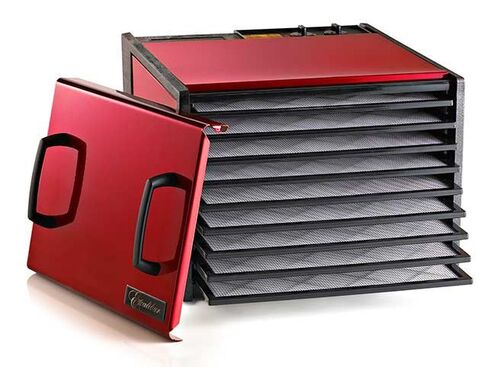 Then I tasted a delicious salad at Upland, in Manhattan.
The chef, Justin Smilie, is one of many using the machine to intensify flavors in restaurant dishes. He'd dusted the leaves with an umami-rich powder made from dehydrated anchovies so the dish had all the rich flavors of a classic Caesar, with none of the weight. (So good, we even re-created the recipe for home cooks.) Convinced, I called up Excalibur, a manufacturer based in Sacramento, and—doorbell sound effect—a shiny steel beast weighing about 20 pounds arrived at my apartment.
It was the height of mulberry season in New York, and the wild, wonky tree in my courtyard was full of berries. I arranged them in the perforated trays, turned the thing on, and waited. In about 12 hours they were tiny, nearly black, and still faintly chewy (ideal for smattering over yogurt for breakfast, mixing into granola, or baking into a cake).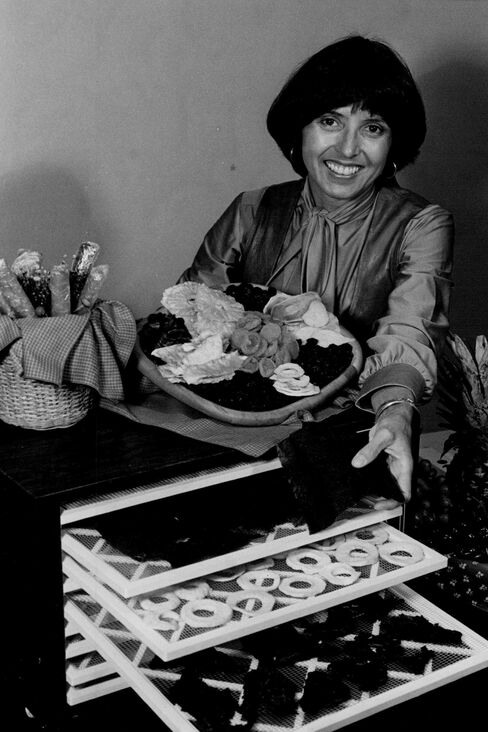 Later, while my neighbors lit their grills, I stayed inside to slice flank steaks. I marinated the meat in soy sauce and black pepper and watched the pieces turn very, very slowly into sweet, tender jerky. I was pretty pleased with myself, but meat and fruit are the most basic of basics—Dehydrating 101. The process isn't complicated, and of course it isn't new: The sun was the proto-dehydrator, preserving things on and off the vine.
The electric dehydrator, which gained popularity in American home kitchens of the 1970s, hasn't evolved much since then. It's still a small, warm room that strips food—slowly and steadily—of all its moisture, like one endless sunny afternoon. A fan circulates air, to avoid the growth of mold and bacteria on the warm food, and as the moisture evaporates, some flavors concentrate. The colors often darken and deepen. The smells change and, in some cases, almost vanish.
The main difference between a $30 machine and a $300 one is material, looks, and quality of air circulation. The more luxurious models circulate air more evenly, so you don't have to flip foods over in their trays, and they boast a more precisely accurate thermostat. Although you can accomplish many of the same things in a low-temperature oven, mine will not maintain temperature evenly, so I have to flip foods and rotate trays frequently. A microwave can dehydrate as well, and in a fraction of the time, though it can also heat aggressively.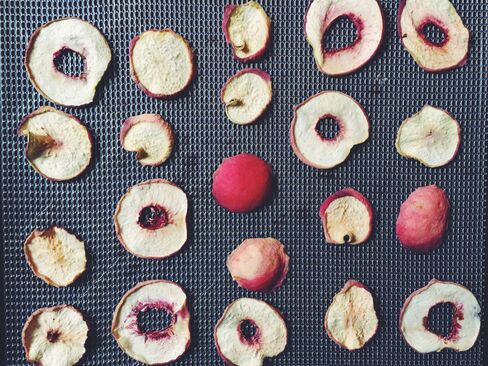 In my borrowed dehydrator, I found success with black olives drained of their brine, ripe grapes, and sliced nectarines. I mashed some potatoes with Old Bay and spread them on parchment paper, thinking I could replicate reconstituted potato chips of some kind (nope, awful!). And the yogurt I'd mixed with honey turned powdery, not at all like the chewy candies I'd hoped for. I followed a "cookie" recipe I found on a raw food forum, using dates and sesame seeds, which was essentially a fancy fruit rollup. From the same forum, I learned it's the perfect environment for sprouting mung beans (and other things you might want to sprout).
If faintly warm drying doesn't sound as fun as cooking, it's because it isn't. I was getting ready to return the appliance until I got on the phone with the San Francisco-based spirits writer Camper English, who had recently presented his research on dehydrated liqueurs at the annual industry event Tales of the Cocktail. English has been experimenting with the process since 2011, which he's written about on his website, Alcademics.
"I first heard about the technique from bartenders in Australia, who were dehydrating green Chartreuse into a sugar and using it as a rim," he said during an interview. (The result shouldn't be confused with the powdered alcohol that caused a stir last year.)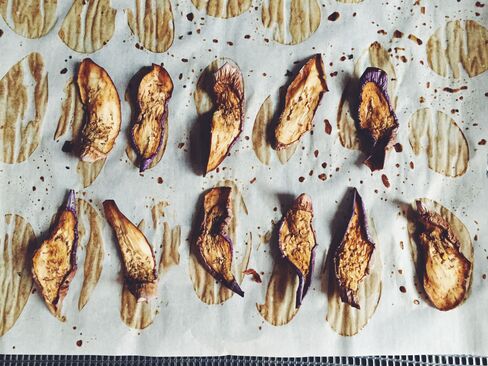 English has since dehydrated dozens of spirits and liqueurs, and he's found that some work better than others. "The downside to dehydrating liqueurs is you lose some of the aromatic properties," English says. When it comes to Campari, for example, he adds fresh orange zest back to the sugar to revitalize it. "You can then use these sugars for anything you'd use regular sugar for."
English has used it to make rock candy, along with Campari-flavored fruit leathers (by mixing it with applesauce and dehydrating it again) and nonalcoholic mixers.
Instead of returning the machine, I imagined a world in which I always have a dozen bottles of cold Champagne in the fridge, and my stock of sugar flavored with Chartreuse and Campari dust would come in super handy to make last-minute cocktails for all the friends who stop by unannounced. Never mind that this never happens, that the dehydrator barely fits in my apartment, that my fridge is mostly full of old condiments. I guess whether you're making jerky or Angostura flavor pills, the dehydrator is a big, slow dream machine. You buy one so you can think ahead, and plan for some other day.
For the best in travel, food, drinks, fashion, cars, and life, sign up for the Pursuits newsletter. Delivered weekly.
Before it's here, it's on the Bloomberg Terminal.
LEARN MORE