Yuan Surprise Awakens Sleeping Commodity Markets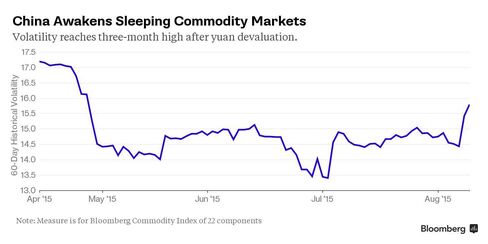 China's surprise currency devaluation has shaken the complacency out of commodity markets.
Even amid the biggest meltdown for raw materials in almost four years, volatility has remained relatively calm. That changed Tuesday as the devalued yuan dealt another blow to bulls who were already suffering from supply gluts.
The 60-day historical volatility for the Bloomberg Commodity Index climbed to the highest since April. The jump came as the measure posted its biggest intraday loss in a month. Oil and industrial metals fell amid speculation that the weaker Chinese currency will hurt demand by making dollar-denominated imports more expensive.
Volatility is rebounding after sliding to a seven-month low in early July. The Bloomberg Commodity Index has tumbled 8.3 percent over the past month, the biggest such slump since 2011.
Before it's here, it's on the Bloomberg Terminal.
LEARN MORE