We all keep a watchful eye on our pay packets and how much they're rising, if at all. So is the Bank of England, which has put wage growth at the center of its analysis into inflationary pressure as it edges closer to an interest-rate increase.
So what will labor-market data for the second quarter on Wednesday tell us? According to economists surveyed by Bloomberg, employment fell in the three months and wage growth came a little off the boil. But as Bloomberg Intelligence economist Jamie Murray says, "taking these movements at face value could be a mistake."
"The bigger picture of the U.K. economy is one of little slack remaining and pay pressure building," he says.
Here's Britain's unemployment rate, and it's almost back at pre-crisis levels. For Murray, that means "finding good workers will become harder," forcing companies to offer more to lure talent.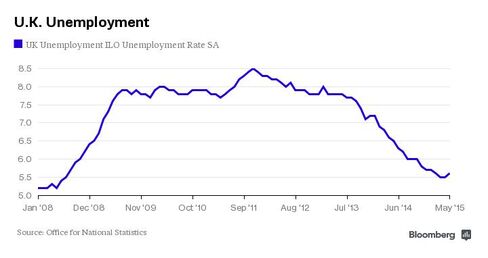 And here's the annual change in total average weekly earnings, which has been on an upward trend for a year now.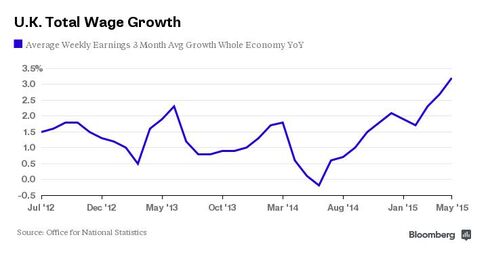 While the second quarter may show some loss of momentum in pay growth, that's likely to reflect a temporary slowdown in economic expansion at the start of the year. It's also partly to do with the timing of annual bonuses. So a weak number Wednesday doesn't necessarily mean the stronger trend we've seen in the past year is over. In their preview, Morgan Stanley analysts including Melanie Baker say they expect a "healthier labor market picture to reassert itself in coming months."
The BOE's own outlook echoes this. It raised its 2015 wage-growth forecast to 3 percent from 2.5 percent last week. It gets better for workers in 2016, with wages seen rising 3.75 percent. (That will be more than double the rate of inflation, according to the central bank's projections.)
This all sounds like good news for Britons. Just don't forget that an improving labor market means more inflationary pressure and will (at some point) need a response from Mark Carney. Economists are penciling in a rate hike in early 2016.
Before it's here, it's on the Bloomberg Terminal.
LEARN MORE