Takata Promises Regulator It Will Publicize Air-Bag Recalls
Takata Corp., whose exploding air-bag modules have been tied to eight fatalities and the largest-ever U.S. automotive recall, is reassuring the U.S. National Highway Traffic Safety Administration that it's working to reach consumers affected by the safety defect.
The efforts disclosed Tuesday are part of the Tokyo-based company's efforts to rein in fatalities and injuries related to the explosions, which have sent shrapnel into drivers and passengers.
Takata told NHTSA it's working to maximize the number of vehicles that get repaired in a series of recalls affecting 11 automakers and an estimated 32 million vehicles. It's also assisting in the auto companies' consumer outreach efforts.
The volatile air-bag inflators behind the largest auto-safety recall in U.S. history went unresolved for a decade with neither Tokyo-based Takata nor the U.S. agency that regulates it finding an underlying cause. The report to NHTSA was required under a May agreement in which Takata admitted to a safety defect and expanded some air-bag recalls.
Takata is planning to begin advertising in seven U.S. southern states: Alabama, Georgia, Florida, Louisiana, Mississippi, South Carolina and Texas. The initial wave of ads will include Hawaii, Puerto Rico and the U.S. Virgin Islands.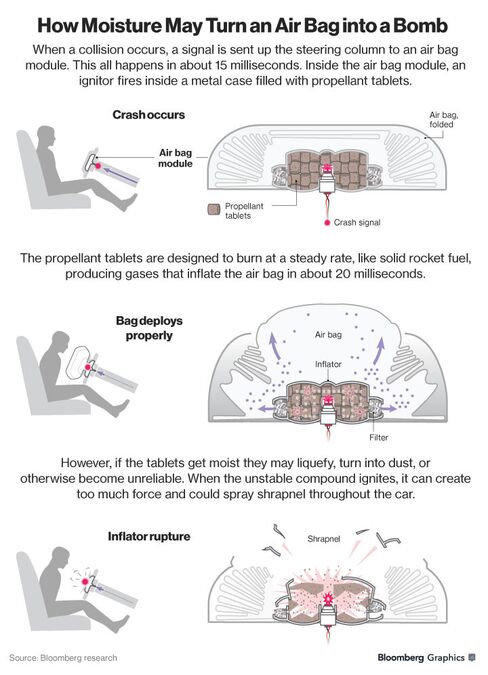 Southern States
Automakers have targeted southern states in their initial repairs because the defect has been found most often in vehicles with prolonged, constant exposure to high humidity.
"We think the phased in geographic approach for the advertising campaign is appropriate," the company told NHTSA.
The air-bag supplier is planning to emphasize digital advertising through websites like CNN and Yahoo!, as well as social media like Facebook and Twitter.
Banner ads will be in red with the phrase "Urgent Airbag Recall Notice" in bold letters. The company also will work with the Insurance Institute for Highway Safety on a direct mailing to reach about 85 percent of the U.S. market.
Takata also filed a plan on how it will conduct the testing that is designed to find the root cause for the air-bag failures. The publicly available portion of the plan is scant -- 37 of the 39 pages have been marked confidential on a document posted on the agency's website.
The regulator and the parts maker have agreed to cooperate on testing of air-bag modules as both investigate possible causes for the explosions.
NHTSA is urging consumers to comply with the recalls, because newer air-bag units are safer than the defective versions. But neither the company nor regulators can assure vehicle owners that the fixes will permanently reduce the risk of an exploding air bag.
NHTSA's administrator, Mark Rosekind, said at a June 2 congressional hearing there may be more than one root cause for the Takata explosions, or investigators may never know for sure what the issue is.
Before it's here, it's on the Bloomberg Terminal.
LEARN MORE