Sun Pharma Takes One-Time Charge as Sales Miss Estimates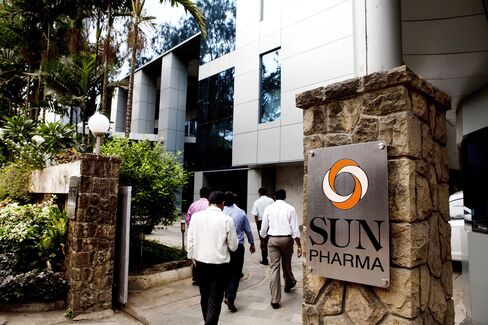 Sun Pharmaceutical Industries Ltd., India's largest drugmaker, reported quarterly sales that missed analyst estimates as it integrates the competitor it bought and faces supply constraints at one of its own facilities.
Sales at Sun rose 3 percent to 65.2 billion rupees ($1.02 billion) in the three months ended June from 63.1 billion rupees a year earlier, the Mumbai-based company said Tuesday. That compares with the median estimate of 67.1 billion rupees from 25 analysts surveyed by Bloomberg.
Sun Pharma, the world's fifth-biggest generic drugmaker following the purchase of Ranbaxy, is now seeking to address U.S. import bans on four of Ranbaxy's Indian facilities. Last month, it warned that revenue may remain flat or decline this fiscal year as it integrates Ranbaxy and discontinues some of the smaller company's "non-strategic businesses."
Sun reported a one-time charge of 6.85 billion rupees in the quarter "on account of impairment of fixed assets and other related costs and write down of the carrying value and goodwill on consolidation." The costs came from the "integration and optimization exercise" being undertaken at some of its manufacturing facilities.
"The one-time charge is pretty huge," said Sarabjit Kour Nangra, an analyst at Angel Broking Ltd. in Mumbai.
Net income in the three months ended June 30 fell 60 percent to 4.79 billion rupees from 12 billion rupees the year before, the company said.
FDA
Sun shares rose 0.1 percent Tuesday in Mumbai. They have gained 1.8 percent this year, compared with the 1.3 percent advance in the S&P BSE Sensex Index. The earnings were released after the close of trading.
Daiichi Sankyo Co. in April last year agreed to sell its controlling stake in Ranbaxy to Sun. Since then, the U.S. Food and Drug Administration has rescinded approvals for two of Ranbaxy's products: generics of AstraZeneca Plc's Nexium for heartburn and Roche Holding AG's Valcyte.
Sun's own Halol facility was inspected by the FDA last year and received a Form 483 detailing possible deviations from good manufacturing practices.
Sun faces supply constraints for some products arising from efforts to boost compliance at the Halol facility, the company said in a filing last month.
"Our performance for the quarter has been impacted by certain one-time and exceptional charges which will drive synergies and overall profitability improvement in the long-term," Sun's Managing Director Dilip Shanghvi said in a statement.
Before it's here, it's on the Bloomberg Terminal.
LEARN MORE