Rajan Seen Keeping Rupee Out of Currency War to Hold Credibility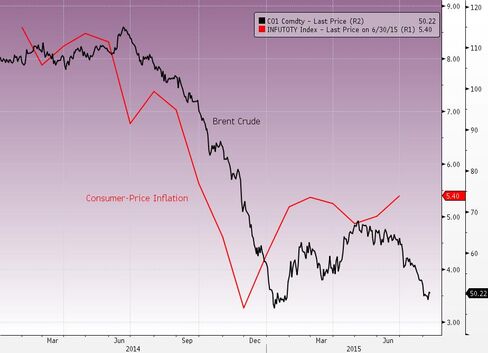 Indian central bank Governor Raghuram Rajan will probably stay out of any currency war triggered by China's yuan devaluation judging from his policy stance to date.
Rajan has voiced criticism of nations using exchange-rate depreciation to boost their economies and said this month it's better to let the rupee "find its level" with the central bank stepping in only to curb volatility. Standard Chartered Plc and Barclays Plc say Rajan's inflation focus, falling oil prices and a possible increase in U.S. interest rates this year will prevent him from depreciating the rupee aggressively.
Rajan won the trust of global funds by boosting the rupee from a record low in August 2013 and waging a war against price increases. He's resisted pressure from the finance ministry in keeping borrowing costs among the highest in Asia.
Curbing living costs is key for sustained growth in Asia's third-largest economy, where most people live on less than $2 per day. Indian exports have fallen for seven straight months -- the longest stretch of declines since 2009 -- as the rupee strengthened against currencies of trade partners in the past year even as it fell 5.6 percent against the dollar.
"I don't think China's move will trigger a currency war and even if it does, the Indian central bank is unlikely to be drawn into it," said Divya Devesh, Standard Chartered's Asia foreign-exchange strategist in Singapore. "If the rupee outperforms the region, the RBI will step in to limit the extent of the currency's over-valuation in real effective terms, as it has been doing."
CHART 1. The 53 percent plunge in Brent crude in the past year helped narrow the current-account deficit to a seven-year low in the year ended March and is one reason why the rupee's drop against the dollar hasn't raised alarm bells for policy makers. Consumer-price gains in the nation, which relies on imports for about three quarters of its oil, have slowed to 5.40 percent in June from as high as 8.60 percent in January 2014.
"Inflation is a major focus for Rajan," said Mitul Kotecha, head of Asia-Pacific foreign-exchange strategy at Barclays in Singapore. "I don't think India will be necessarily dragged into" weakening its currency too sharply, he said.
Rajan has set an inflation target of 6 percent by January.
CHART 2. Even as India runs a $42 billion trade deficit with China and a weaker yuan would only make Chinese goods cheaper, Rajan may favor measures to boost productivity and reduce dependence on imports, according to Kotak Securities Ltd.
"If you're a net importer, you can't have devaluation as a stated objective as you are then increasing the cost of your imports," said Suvodeep Rakshit, an economist at Kotak Securities in Mumbai. Rajan will keep the main policy rate unchanged at 7.25 percent this year, he said.
China's devaluation will have an impact on Indian exports and foreign direct investment into the nation, Finance Secretary Rajiv Mehrishi said on Tuesday.
CHART 3. The rupee has advanced in 2015 against 26 of 31 major currencies tracked by Bloomberg, and is almost 25 percent overvalued according to the RBI's trade-weighted index of exchange rates of India's six largest trade partners. It has strengthened 12 percent relative to a basket of 36 currencies, a central bank's measure of its real-effective exchange rate shows.
"We do have the ability to intervene in the currency for a while to reduce volatility but we don't want to get into the business of trying to maintain the currency at a particular level which is different from the level the market wants it to be at," Rajan said in an Aug. 5 interview with Bloomberg TV India.
CHART 4. Under Rajan, who took charge at the central bank in September 2013, India's foreign-exchange reserves have climbed to record levels as he sought to shield local markets from any capital outflows due to global events such as a possible increase in U.S. interest rates.
That helped narrow swings in the rupee this year to the lowest since 2008. The currency sank to an unprecedented 68.845 a dollar in August 2013 as overseas funds sold emerging-market assets on the Federal Reserve's signal to end bond purchases.
"The currency will come under pressure when the Fed hikes rates later this year, enabling the RBI to allow some weakness without damaging its credibility in meeting the disinflationary policy goal," said Viraj Patel, a London-based currency strategist at ING Groep NV, the top rupee forecaster in Bloomberg's quarterly rankings.
Before it's here, it's on the Bloomberg Terminal.
LEARN MORE