Oil-Sands Syncrude Drop Reveals Downturn Tactic as Outages Surge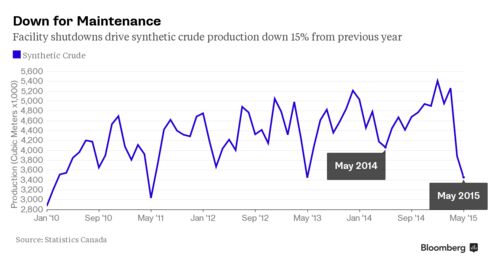 Producers of light synthetic crude from Canada's oil sands found a way to manage this year's price slump by churning out less and getting more maintenance work done.
The strategy is highlighted by a 15 percent decline in the production of the Syncrude benchmark in May from a year earlier, according to data reported by Statistics Canada on Monday.
Oil-sands operators including Royal Dutch Shell Plc cut output while collectively undertaking the biggest set of repairs this spring in five years at their upgraders, plants that turn bitumen into light oil, according to Genscape Inc., an energy data company. The work followed the lowest average quarterly price for benchmark U.S. crude since 2009.
"From a strategic point of view, I'm sure these major companies are betting that the peak of oversupply is this year, now," said Carl Evans, a Genscape analyst based in Boulder, Colorado. "Why not take these big turnaround events when prices are going to be the lowest, anyway."
Producers typically take upgraders offline for maintenance each spring, before North America's summer driving season boosts demand. For the second quarter as a whole, synthetic crude output fell 4.1 percent to 842,000 barrels a day from the prior year, according to Genscape.
Shell's seven-week shutdown of its Scotford upgrader in Fort Saskatchewan, Alberta, one of five with planned maintenance in the season, was the biggest outage since 2012 for the facility, Evans said.
Suncor Energy Inc. and Syncrude Canada Ltd. also reported reduced synthetic crude volumes from upgrader shutdowns in May, followed by downtime at facilities run by Canadian Natural Resources Ltd. and Cnooc Ltd.'s Nexen Energy in June.
Price Premiums
The lower output resulted in the biggest price premiums for Canadian light oil over U.S. crude in 13 months. Spot Syncrude traded at a high of $4.50 a barrel over West Texas Intermediate on May 20 and fell to $4.50 below the U.S. grade on Tuesday, according to data compiled by Bloomberg.
With much of this year's planned outages already complete, May's light oil prices are poised to have been the best for oil-sands operators in 2015, said Sam La Bell, an analyst at Veritas Investment Research in Toronto.
"Q2 will probably end up being a high point for pricing this year," La Bell said.
Before it's here, it's on the Bloomberg Terminal.
LEARN MORE