Iraqi Parliament Passes Anti-Graft Bill to Temper Rising Anger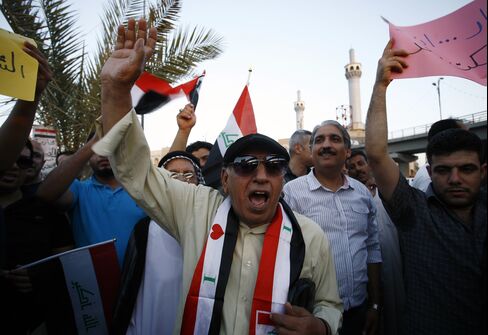 Iraq's parliament approved Prime Minister Haidar Al-Abadi's anti-corruption plan on Tuesday, abolishing senior government posts and authorizing a graft probe after days of street protests against alleged government waste.
All 297 members present in parliament approved the bill, which scraps the system of sectarian and party quotas for top posts put in place after the U.S.-led invasion of Iraq in 2003. The plan was also backed by Iraq's influential top Shiite cleric and U.S. officials ahead of the vote.
The decision "represents a milestone in the political effort to respond to the demands of the protesters as well as the supreme religious authority," lawmaker Ibraheem Bahr Al-Olum said by phone.
Thousands of Iraqis took to the streets last week to protest what they describe as widespread corruption in OPEC's second-biggest oil producer. The plunge in crude prices and Iraq's battle against Islamic State militants has depleted the state coffers, and the government recently took a bailout from the International Monetary Fund to meets its budget deficit.
While Abadi's proposal had helped to ease some of the tensions, former American advisers on Iraq expressed skepticism ahead of the vote that any new anti-corruption drive would survive the country's fractious politics.
"This is a great start for reforms that are a decade overdue," said Ali Khedery, who served as an adviser to five U.S. ambassadors and three heads of U.S. Central Command in Iraq from 2003 to 2010. "But it's very hard to root out the cancer when it's corrupted the entire body."
The plan received support from Iraq's most influential cleric, Ayatollah Ali Al Sistani, and Abadi's predecessor, Nouri al-Maliki, whose current position as a vice president will be eliminated.
Opponents of the plan include Iraqi Vice President Ayad Allawi, whose post will also be abolished. Allawi told reporters on Monday that Abadi is overriding the constitution, and called on Iraqis to protest and demand early elections if the prime minister "failed to carry out his responsibilities."
Abadi may also face opposition from Kurdish leaders, who have expressed concern that the removal of an ethnic quota system would weaken their power and solidify Shiite rule.
Before it's here, it's on the Bloomberg Terminal.
LEARN MORE