Emerging Market Stocks Enter Bear Market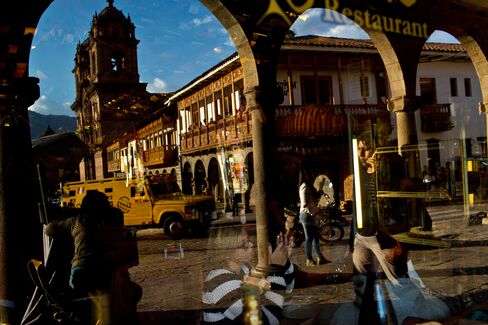 Emerging-market stocks entered a bear market and currencies slid on concern China will curtail imports after the biggest slide in the yuan in two decades.
The selloff took the MSCI Emerging Markets Index's decline from a peak last September to 20 percent, the threshold for a bear market.
The gauge declined 1.1 percent to 878.27 on Tuesday, ending a bull rally that started in 2012, according to data compiled by Bloomberg. The yuan helped lead declines among 24 developing-nation peers, as a Bloomberg index of 20 most-traded emerging currencies slumped 0.7 percent to a record low.
China's central bank cut its reference rate by 1.9 percent, triggering the yuan's steepest one-day loss since the nation unified official and market exchange rates in 1994. Credit and currency markets in Brazil, Peru and Chile are exposed because of their reliance on China for exports, Commerzbank AG said. Russia and South Africa count China as their biggest trading partner.
"There is a great deal of nervousness around emerging markets now that the general economic environment has been less favorable for them," Alan Gayle, senior strategist for Atlanta-based Ridgeworth Investments, said by phone. "The fact that China decided to let its currency drift lower will add even more pressure."
Asian Currencies
Shares in Indonesia slumped to a 17-month low and all major Asian currencies fell on concern a weaker yuan will force other policy makers in the region to devalue their foreign-exchange rates as cheaper Chinese exports edge out competitors. The Singapore dollar led the decline, falling 1.6 percent in the biggest selloff since 2011, while the South Korean won dropped the most since May 2013.
China's devaluation also spread through commodity markets, with Brent crude dropping 2.4 percent to $49.18 a barrel. The ruble decreased 2.3 percent to 64.280 per dollar, wiping out Monday's gain. Russia relies on oil and gas industries for about 50 percent of budget revenue and China is the second-biggest destination of its exports and its largest trading partner, according to data compiled by Bloomberg.
"The devaluation clearly hits China's demand for emerging-market products," Simon Quijano-Evans, the chief emerging-market strategist at Commerzbank in London, said by e-mail.
Brazil's real weakened for the first time in three days, dropping 1.1 percent against the dollar. The Ibovespa sank 0.6 percent, led by a 5.1 percent decline in iron-ore producer Vale SA. China is the country's biggest export market.
Indonesian Stocks
Indonesia's Jakarta Composite Index tumbled 2.7 percent on concern the yuan devaluation may weaken exports from Southeast Asia's largest economy. Shipments to China, Indonesia's third-largest trading partner, had already dropped 26 percent in the first half of 2015, according to government data.
China Southern Airlines Ltd. declined 18 percent in Hong Kong trading, the most since 2001. China Eastern Airlines Ltd. slumped 16 percent, the steepest drop in seven years.
Each 1 percent drop in the yuan erodes 767 million yuan ($121 million) from China Southern's annual profit, according to the carrier's 2014 financial report.
Demand for haven assets rose. The premium investors required to hold emerging-market debt over U.S. Treasuries widened 9 basis points to 383 basis points, according to JPMorgan Chase & Co. indexes. U.S. exchange-traded funds that invest in developing countries posted net outflows of $70 million on Aug. 10, leading ETF losses, according to data compiled by Bloomberg.
The Borsa Istanbul 100 Index climbed 2.9 percent. The AK Party will continue coalition talks with the Republican People's Party, or CHP, the spokesman for AK Party's delegation, Omer Celik, said at a press conference in Ankara on Monday. The AK Party lost its 13-year-old majority in parliament in June 7 presidential elections.
Before it's here, it's on the Bloomberg Terminal.
LEARN MORE