Currency Rout Goes Global as Jen Sees Risk of 50% Loss on China
Yuan's devaluation changes the FX landscape
As bad as things are for emerging-market currencies, China is about to make them a whole lot worse.
Its devaluation of the yuan risks a new round of competitive easing that may send currencies from Brazil's real to Indonesia's rupiah tumbling by an average 30 percent to 50 percent in the next nine months, according to investor and former International Monetary Fund economist Stephen Jen.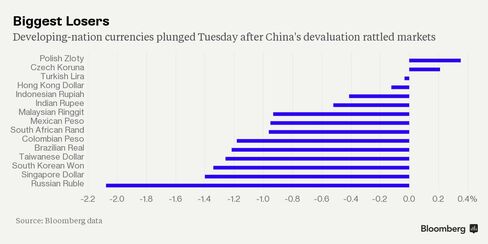 Volatility measures were already signaling rising distress in emerging markets even before China's shock move. An index of anticipated price swings climbed above a rich-world gauge at the end of July, reversing the trend seen for most of the past six months.
"If this is the beginning of a new phase in Beijing's currency policy, it would be the biggest development in the currency world this year,'' said Jen, founder of London-based hedge fund SLJ Macro Partners LLP. "The emerging-market currency weakening trend is now going global.''
Latin America is a particular concern because of the region's high levels of corporate debt, said Jen, who predicted the 1997 Asian crisis as a strategist at Morgan Stanley.
Commodity Exporters
A day after China ended the yuan's de facto peg with the dollar, the currency continued to drop on Wednesday, prompting authorities to intervene in markets to try and stem its slide.
The yuan tumbled 1 percent to 6.3870 per dollar as of the close in Shanghai, its biggest two-day drop since China unified official and market exchange rates in January 1994.
Jen recommends selling the real, rupiah and South African rand -- all currencies of commodity exporters, which rely on China for a large chunk of their foreign earnings. The Bloomberg Commodity Index has dropped 11 percent since mid-year as the world's second-largest economy suffers its sharpest slowdown since 1990.
China's move to end the yuan's peg with the dollar, and the potential for a new currency war as its trading partners react, is only the latest catalyst for declines in emerging-market currencies.
As well as the drop in raw-materials prices, the prospect of higher interest rates in the U.S. has also drawn away investment, pushing a Bloomberg index of emerging-market exchange rates down 20 percent in the past year. A Latin American measure headed for its 13th monthly loss out of 14, while an Asian gauge plunged Tuesday to its lowest in six years.
Currency Wars
China's devaluation will spark another wave of declines, said David Woo, Bank of America Corp.'s head of rates and foreign-exchange research in New York. The Asian nation is vital to the global economy, accounting for about 27 percent of growth.
"This will trigger competitive devaluation around the world that will start in Asia but definitely not end in Asia,'' said Woo, who's been predicting China would act since January.
JPMorgan Chase & Co.'s index of volatility for emerging-market currencies climbed to 10.9 percent this week, more than a percentage point higher than a Group-of-Seven measure. It rose above the developed-nation gauge on July 31 for the first time since May.
Strategists surveyed by Bloomberg anticipate declines in 19 of the 31 leading emerging-market currencies by the middle of next year, with those from Latin America and Eastern Europe seen as the biggest losers.
Declines will be exacerbated by "a confluence of cyclical and structural factors," according to SLJ's Jen, who pointed out that global growth is slowing and said the record $9 trillion owed by sovereign and corporate borrowers outside the U.S. will create demands for dollars.
Morgan Stanley cautions against being too bearish. Investors betting currencies will weaken should limit their potential losses because China will follow its devaluation with fiscal-stimulus measures to boost the economy, its strategists said Tuesday in a note.
"Asian currencies in particular should remain under pressure from the devaluation,'' wrote strategists including London-based head of foreign-exchange strategy Hans Redeker. "However, stops need to be tight.''
Before it's here, it's on the Bloomberg Terminal.
LEARN MORE