Corbyn U.K. Labour Leadership Odds Cut After YouGov Poll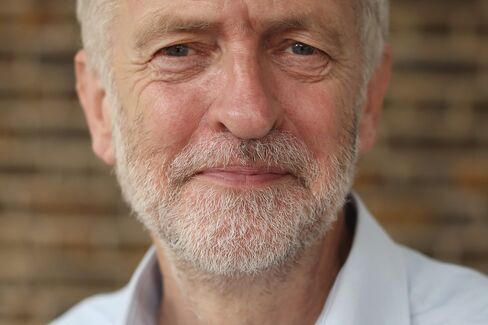 Bookmakers cut their odds that Jeremy Corbyn will win the U.K. opposition Labour Party's leadership election after a YouGov Plc poll showed another surge in support for the anti-austerity candidate.
Ladbrokes Plc reduced Corbyn's odds of succeeding Ed Miliband as Labour leader to 1/2 on Tuesday, meaning a successful 2 pound ($3) bet would make a profit of 1 pound, ahead of Andy Burnham on 3/1 and Yvette Cooper on 9/2. William Hill Plc made Corbyn the 1/3 favorite to head the party.
Corbyn extended his lead in the YouGov poll with 53 percent of first-preference ballots, an increase of 10 percentage points from three weeks ago, according to the survey of those eligible to vote in the leadership contest. That level of support would allow him to win easily in the first round, 32 points ahead of his nearest challenger.
"Corbyn's odds have collapsed from 100/1 to 1/2 in the space of a few weeks," Ladbrokes' head of political odds, Matthew Shaddick, said in an e-mailed statement. "It now looks as if the Labour Party is going to deliver the biggest shock result in the history of political betting."
Corbyn, who started the contest as the outsider among the four leadership candidates, has expressed support for the nationalization of Britain's railways and the scrapping of the country's nuclear deterrent. He's drawn support from the main labor unions, the party's biggest financial backers.
Radical Program
The candidate's socialist platform, the most radical advanced by a Labour leadership contender in more than 30 years, has prompted critics within his own party to weigh in on the debate. In July, former Prime Minister Tony Blair urged party supporters not to return to the positions that kept Labour out of power in the 1980s. Blair's former press chief, Alastair Campbell, told party voters to back "anyone but Corbyn" in a blog post on Monday.
Peter Kellner, YouGov's president, questioned whether a Corbyn victory is guaranteed, citing the demographics of those surveyed in the latest poll.
"The deadline for Labour's selectorate is a month away. They have time to change their minds," he said in a comment piece on YouGov's website. "Could some people who now say they support Corbyn draw back at the moment of decision –- or, alternatively, does his bandwagon have further to roll?"
Ballot papers in the contest will be sent out to Labour Party members and registered supporters on Friday, with the result to be announced on Sept. 12.
Before it's here, it's on the Bloomberg Terminal.
LEARN MORE