Concern Over Iran's Parchin Not Supported by Images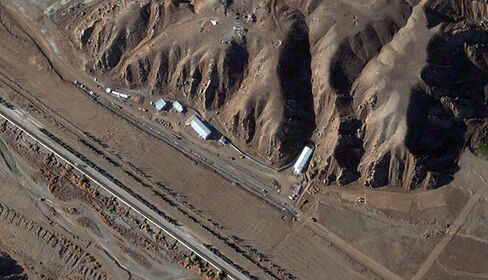 The number of parked vehicles at an Iranian military complex hasn't shown any sign of change in more than a year, according to satellite imagery and analysts. That's at odds with the conclusions of an influential Washington research group that's expressed concern about the site.
The Institute for Science and International Security, or ISIS, said in an Aug. 7 research note that Iran's decision to park two vehicles near a building at the Parchin complex roused suspicion. However, according to satellite images, an average of two vehicles have occupied the same parking spot since 2014. The number of cars identified by ISIS at a second parking site has remained constant for five years.
"The 'parking lot of death' has been imaged dozens of times and there are clear patterns of passenger cars parked there," said Robert Kelley, an intelligence analyst and former U.S. nuclear-weapons scientist. "There have been no indicators of a change in Iranian activities of any significance -- no earth moving or sanitization whatsoever."
With debate flaring in Washington over the July 14 agreement between Iran and world powers, some analysts and politicians say activities at Parchin underline the risks of entering into a deal with the Islamic Republic. In a statement on Saturday, Iran said analysts had confused normal roadwork with malicious intentions at the 50 square-kilometer (31 square-mile) complex.
Movement Inevitable
"Our recent analysis pointed out that new vehicles, including heavy machinery, were now at the site compared to the previous few months," ISIS founder David Albright said in an e-mail. "We also pointed out additional new activities. These findings are also supported by reports by the U.S. intelligence community that also expressed concern about these renewed activities."
The presence of heavy machinery was disputed by Kelley in a separate analysis published Thursday by IHS Jane's Defense. The vehicles present looked like a white sedan and a jeep, said Kelley, who formerly directed a U.S. nuclear lab specialized in remote monitoring.
"Parchin is an active site and movement is inevitable," Paul Ingram, executive director of the British American Security Information Council, said in an e-mailed reply to questions. "Attempting an impossible cleanup in full view of satellites and just before Congressional votes would be stretching conspiracy theories beyond breaking point."
Parchin Access
International Atomic Energy Agency investigators have sought access to Parchin since revealing in 2011 that a group of buildings on its periphery may hold a containment vessel used to conduct nuclear-weapons research. Neither the IAEA nor intelligence agencies working with inspectors has divulged evidence proving that the container exists. For its part, Iran has cited national security in refusing access.
Without corroborated evidence or entry to Parchin, analysts have relied on satellites to monitor facilities and make deductions.
"The Agency has continued to observe, through satellite imagery, the presence of vehicles, equipment and probable construction materials, but no further external changes to the buildings on the site," investigators reported May 29.
Albright, who is routinely called to testify before Congress about Iran, wrote Aug. 5 that activities around Parchin raised concern the country was "sanitizing" possible evidence. He dismissed Iran's statement that construction was linked to roadwork for a nearby dam.
Concern and Suspicion?
"Why would Iran choose to park vehicles three kilometers south of the dam and at the one site that would create intense concern and suspicion?" Albright asked in his analysis.
But according to the satellite imagery examined by Kelley, many of the same vehicles in both parking areas are in the exact same location seen dozens of times in recent years, without provoking controversy. They probably belong to employees working at nearby non-nuclear-related military facilities, Kelley said.
"To many opponents of the deal, every question raised and possible weakness identified confirms that Iran is either cheating now or will surely cheat in future," wrote Lukasz Kulesa, the head of research at the European Leadership Network. "To some supporters, raising any questions about the deal's possible weak points is seen almost as war-mongering.
''It's almost like a religious thing," Kulesa said.
This story was corrected to clarify the position of parked vehicles and change the time period to one year in the first and second paragraphs. It also added a reference to a second parking site and ISIS statement in second and fifth paragraphs.
Before it's here, it's on the Bloomberg Terminal.
LEARN MORE