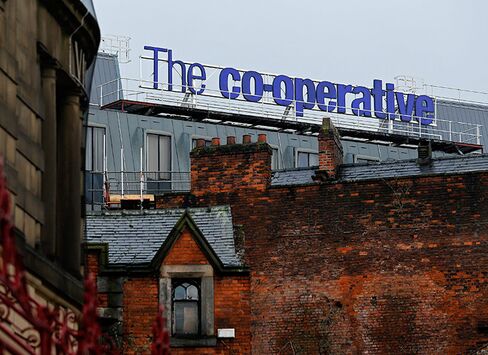 Co-Operative Bank Plc was publicly censured by U.K. regulators for breaching its listing rules, while it avoided a fine of at least 120 million pounds ($187 million).
The U.K. Financial Conduct Authority and the Prudential Regulation Authority both censured the bank for misleading investors and failing to be open with regulators, according to separate e-mailed statements on Tuesday. Investigations into senior individuals continue, the regulators said.
Co-Op Bank bondholders in 2013 plugged a 1.5 billion-pound capital shortfall, leading parent company Co-Operative Group Ltd. to cede control of the unit to creditors after 141 years of ownership. Parliament's Treasury Committee blamed the bank's management, auditor KPMG LLP and the Financial Services Authority, the FCA's predecessor, for failing to spot the shortfall.
"Firms have a very basic but extremely important responsibility to be transparent with their investors and with us, as their regulator," Georgina Philippou, the FCA's acting director of enforcement and market oversight, said in the statement. "This is a serious matter, but exceptional circumstances mean a public censure is the appropriate and proportionate response."
The FCA refrained from imposing a fine, saying it's important the lender has adequate capital in place. The PRA said it could have imposed a 120 million-pound fine.
Stress Tests
Co-op Bank was the only lender to fail the Bank of England's first stress test in December and agreed to cut 5.5 billion pounds of assets by 2018 under a plan to boost capital. The bank sold 1.5 billion pounds of notes secured by home loans to non-conforming borrowers in April and has raised 250 million pounds selling subordinated bonds.
"I would like to apologize again to customers," Chairman Dennis Holt said in an e-mailed statement. "The bank is a significantly stronger organization today under the leadership of the current senior management team."
Co-Op Bank's problems emerged after it abandoned a bid to buy around 632 branches from Lloyds Banking Group Plc in April 2013 amid a shortfall in capital. A month later, Moody's Investors Service cut its rating on the bank's debt six steps to junk, triggering the departure of Chief Executive Officer Barry Tootell and several other senior managers. The crisis was compounded when former chairman Paul Flowers was caught buying drugs by a Sunday newspaper in November 2013.
Chancellor of the Exchequer George Osborne pledged to start an inquiry into the events led by an independent person after the PRA and FCA finished enforcement probes. The U.K.'s Financial Reporting Council accountancy watchdog is also looking into the role of KPMG.
Lloyds sold TSB Banking Group Plc to Spain's Banco de Sabadell in June after taking the company public in an initial public offering last year. London-based Lloyds had to sell the outlets to meet European Union demands after it took state aid during the financial crisis.
Before it's here, it's on the Bloomberg Terminal.
LEARN MORE