Carney Says Financial Regulation May Hinder Short-Term Growth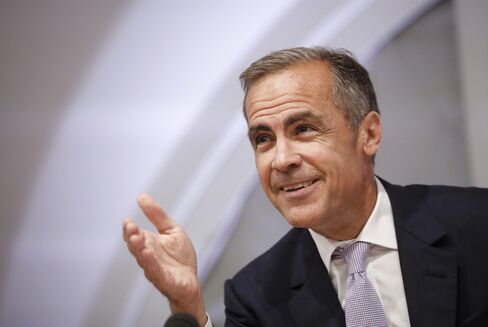 Bank of England Governor Mark Carney said some rules imposed by bank regulators in response to the financial crisis may hamper short-term economic growth and officials will review their policies later this year.
The BOE's Financial Policy Committee "recognizes that action to increase resilience may in some circumstances have a short-term effect on growth, even when that action will make a positive contribution to growth in the medium and longer term," Carney wrote in an Aug. 11 letter to Chancellor of the Exchequer George Osborne.
The BOE will hold a conference in November at which it will "take stock of the reform agenda in financial markets," Carney wrote. He noted that while the FPC's primary objective is to promote financial stability, it also has a secondary mandate to support the government's economic policy, including jobs and growth targets.
Osborne set out the FPC's remit in a July 8 letter to Carney, and the BOE chief responded on Tuesday. In his letter, Osborne laid out his recommendations for how the FPC should support the government's economic policy and underlined his aim for the U.K. to have the "best regulated and most competitive financial services in the world."
The FPC's progress in "fixing the fault lines in the banking system" allow policy makers to turn their attention to non-bank activities, Carney said. Almost half the U.K. financial system consists of non-bank institutions.
"A broad agenda encompassing non-banks is necessary to ensure that any potential systemic risks from market-based finance are identified and also that risks do not migrate from one part of the financial system to another," Carney said.
The FPC will review the investment activities of open-ended investment funds, hedge funds, securities financing transactions, some of the non-traditional activities of insurance companies and derivative deals, he said.
If the review turns up "risks or structural vulnerabilities that cannot be addressed under the current regulatory framework," it will consider making recommendations to the Treasury "relating to the boundaries between and within regulated activities and products," Carney said.
Read this next:
Before it's here, it's on the Bloomberg Terminal.
LEARN MORE