Wal-Mart Still Wanted by a Majority of New Yorkers, Poll Shows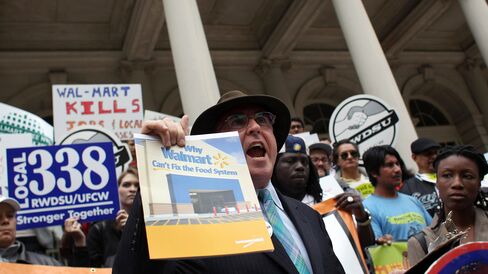 A majority of New York City residents -- 55 percent -- want elected officials to let Wal-Mart Stores Inc. open its first location within the five boroughs, according to a poll released Monday by Quinnipiac University.
The results are similar to polling done by the university four years ago, when Wal-Mart made a failed push to open in Brooklyn. Support for a Wal-Mart in New York City cuts across party lines, with 55 percent of Democrats and 70 percent of Republicans approving.
The world's largest retailer has been shut out of the most populous U.S. city amid opposition from organized labor and politicians such as Mayor Bill de Blasio, who have said Wal-Mart would hurt local businesses and doesn't pay workers enough. Even after Wal-Mart increased its minimum hourly wage and expanded medical coverage, a majority of New Yorkers said the chain doesn't offer enough compensation and benefits.
Still, 64 percent said they would shop at a Wal-Mart in the city if it were convenient, with more than three-quarters of residents in Staten Island and the Bronx saying they'd patronize the retailer.
While 67 percent of households making less than $30,000 a year wanted a Wal-Mart the most, 49 percent of residents earning more than $100,000 did, too.
The poll was conducted July 30 to Aug. 4 among 1,108 self-identified registered voters. The survey had a margin of error of 2.9 percentage points.
Before it's here, it's on the Bloomberg Terminal.
LEARN MORE