U.S. Consumers Rein in Spending Growth Plans, New York Fed Says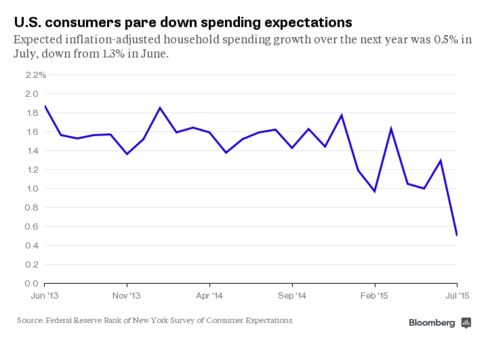 U.S. consumers last month envisioned the slowest rate of growth in their planned spending in at least two years, according to a survey by the Federal Reserve Bank of New York released on Monday.
The New York Fed's July Survey of Consumer Expectations found that households expect to increase spending by 3.5 percent over the next year, down from the 4.3 percent gain seen in June, according to the median response. It was the lowest reading since the survey started in 2013. Median expected inflation over the next year was unchanged at 3 percent.
The monthly New York Fed survey comes ahead of the release of a Commerce Department report on Thursday that is forecast to show U.S. retail sales rose 0.6 percent in July after falling 0.3 percent in June.
The Fed is looking for signs that the labor market and inflation have returned to normal before beginning to raise its benchmark federal funds rate. Most economists expect policy makers will act at their next meeting on Sept. 16-17. The Fed has kept rates near zero since 2008 to combat the worst economic crisis since the Great Depression.
Spending data are important because the consumer underpins the Fed's optimism that economic growth will accelerate.
"That's really fundamental to our improved outlook," Chicago Fed President Charles Evans said during a breakfast with reporters last month. "We are really counting on the consumer playing a strong role."
Before it's here, it's on the Bloomberg Terminal.
LEARN MORE