The Trick That's Going to Keep America's Coal Alive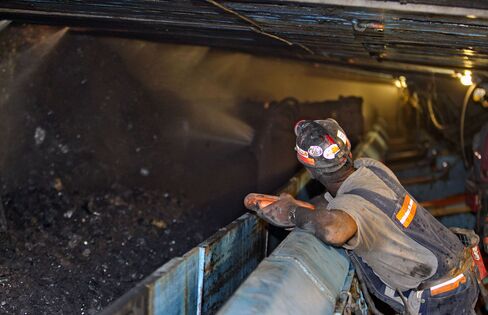 A 30-year-old mining technique is becoming all that's keeping a group of U.S. coal producers from joining their competitors in bankruptcy.
Coal, already locked in a battle with cheap natural gas, now faces federal environmental rules that threaten to reduce its share of power generation to the lowest in 66 years. Companies from Illinois to Northern Appalachia are responding by leaning more heavily than ever on longwall-mining, a technology that'll be used to produce a quarter of America's coal this year, up from 19 percent in 2013.
Investors are backing the miners who rely on the efficient approach. Think of a giant deli slicer with multiple revolving blades that cuts coal from a seam into slices. Eighty percent of analysts covering Foresight Energy LP and CNX Coal Resources LP, both known for longwall operations, recommend buying their shares, compared with less than a third for producers who use it less, data compiled by Bloomberg show.
"People ask me all the time, 'What's the new mining technology that saves coal?'" Jim Stevenson, director of North American coal for consultant IHS Inc. in Houston, said by phone July 31. "It's the longwall. It's the proliferation of this 30-year-old technology that's keeping coal coming out of these basins."
About $175 million buys the machinery -- the roof supports, the shearer and the conveyor system that catches and moves the coal -- as well as the labor to dig the mine slope and shaft. Once set up, a miner in Northern Appalachia can produce coal for $45 a ton, compared with $60 that was once the benchmark in the heart of the region, Stevenson said.
Higher Productivity
There were 68,400 people employed in U.S. coal mining in July, down 21 percent from 2010 levels, Labor Department data show. The largely automated longwall process threatens further job cuts in an industry that already has shed tens of thousands.
So-called continuous mining, the alternative to longwall, uses a crab-like machine, with claws that rip the coal from seams, but requires more labor for installation of roof supports, transporting the coal and other tasks.
A typical longwall in Northern Appalachia extracts as much as 4.9 tons an hour per employee, compared with 2.7 using continuous mining technology, estimates from Energy Ventures Analysis, an Arlington, Virginia-based industry consultant, show. In the Illinois Basin, a longwall yields as much as 10.4 tons an hour per worker, compared with 4.4 for the alternative.
Forty-five longwalls will produce 210 million tons of coal this year, about 24 percent of total U.S. production, according to Wood Mackenzie Ltd., an Edinburgh-based researcher.
Gas Challenge
The technology, which evolved in Europe in the 1960s and was improved in the 1980s, is emerging as a bright spot for an industry battered by sliding prices, environmental regulations and increasing competition from natural gas.
It's been a tough year for U.S. coal. Alpha Natural Resources Inc. and Walter Energy Inc. filed for bankruptcy. Arch Coal Inc. was warned it might be delisted from the New York Stock Exchange. Shares of Peabody Energy Corp., once the industry bellwether, have fallen 85 percent to a record low.
Benchmark Central Appalachian coal futures have fallen 12 percent this year to $42.88 a ton as of Monday on the New York Mercantile Exchange.
Less expensive natural gas has been eating into coal's share of the power market. Gas, down 28 percent in the past year, supplanted coal as the primary fuel for generating electricity in April. Coal retook the lead in May. The government estimates coal will generate 36 percent of power this year, down from about 50 percent a decade ago, while gas climbs to 31 percent from 19 percent.
Obama Plan
President Barack Obama released his Clean Power Plan to combat climate change on Aug. 3. Under the new rules, coal's share would fall to 27 percent in 2030, while gas would be the primary fuel at 33 percent. Coal hasn't dropped below 30 percent in government records going back to 1949.
Analysts including JPMorgan Chase & Co.'s John Bridges and Clarkson Capital Markets LLC's Jeremy Sussman in New York are bullish on CNX, specifically citing its longwall mining.
CNX, Foresight and Murray Energy Corp., which bought a stake in Foresight in April, account for almost half of longwalls in the U.S., regulatory filings show.
Murray's founder and chief executive officer, Robert Murray, spent $1.4 billion in March for a stake in Foresight, saying it was an opportunity to expand longwall operations.
Only one of 17 analysts recommend buying Arch, which operates just three longwalls, and seven of 23 have a "buy" rating on Peabody, which runs only one longwall in the U.S., data compiled by Bloomberg show.
For more, read this QuickTake: Confronting Coal
"Longwalls are certainly helping from a productivity perspective," said Andrew Cosgrove, an analyst at Bloomberg Intelligence in Skillman, New Jersey. "In any commodity cycle, whether in the downturns or the good times, the lowest cost producers are always going to win."
Before it's here, it's on the Bloomberg Terminal.
LEARN MORE