South Korea Says North Will Pay Severely for Alleged Mine Attack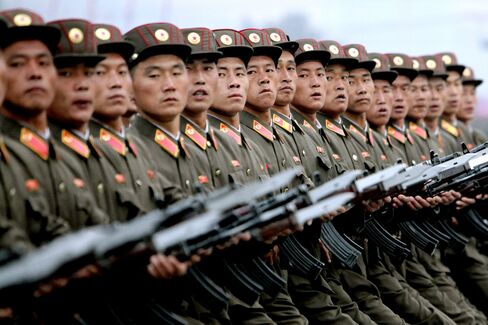 South Korea said North Korea "will pay a severe price" for allegedly planting land mines that maimed two of its soldiers.
A set of wooden-box mines exploded on Aug. 4 south of the demarcation line in the western demilitarized zone, wounding two South Korean soldiers on a routine patrol, Major General Goo Hong Mo of the Joint Chiefs of Staff said Monday in a briefing.
One soldier had a foot amputated and the second had to have parts of both legs removed. Goo accused North Korea of planting the mines.
"North Korea will pay a severe price for its provocation," Goo said. South Korea's retaliatory measures will remain "secret" until they are carried out, he said.
The United Nations Command in Seoul, led by U.S. Forces Korea commander General Curtis Scaparrotti, determined the mines were recently planted rather than dislodged by rains or shifting soil, it said in an e-mailed statement. North Korean troops may have placed the mines by extending their arms through a barbed-wire fence, the South Korean Defense Ministry said on its website. The UN Command also called for military talks between the two countries over the blasts.
Hundreds of thousands of troops on both sides of the border guard the demilitarized zone that bisects the peninsula, a legacy of the 1950-53 Korean War, which ended in a truce rather than a peace treaty. Neither North Korea nor South Korea is a signatory to the Ottawa Treaty that bans the use of anti-personnel mines.
No high-level talks have taken place between the two Koreas since February last year. North Korea threatened in May this year to attack South Korean naval boats if they cross the disputed sea boundary between the two countries, rekindling tensions that had abated after two-month-long U.S.-South Korean military drills ended in April.
Read this next:
Before it's here, it's on the Bloomberg Terminal.
LEARN MORE