Afghan Leader Blasts Pakistan 'Undeclared War' After Deaths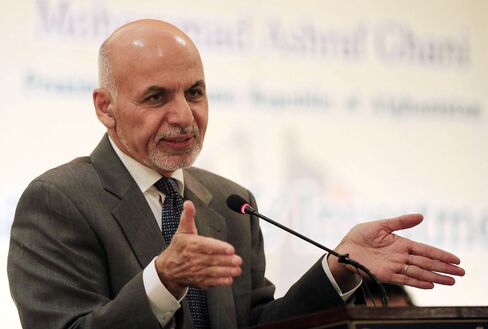 Afghan President Ashraf Ghani accused Pakistan of waging an "undeclared war" against his country, signaling a shift in approach toward his eastern neighbor after a week of bloody terrorist attacks.
"In the past 10 months we have showed a strong will on peace and discussed with Pakistan that both sides should fight terror," Ghani, who took power last September, told reporters in Kabul on Monday. "The reality is that Pakistan is busy holding gatherings to discuss its undeclared war in Afghanistan."
The comments threaten to spoil relations that appeared to improve under Ghani compared with his predecessor Hamid Karzai, who regularly accused Pakistan of cross-border terrorism. The fallout threatens to further destabilize a region with two nuclear powers as the U.S. withdraws troops from Afghanistan.
At least 80 people have died in a wave of attacks across Afghanistan since Friday, including five on Monday when a suicide bomber blew up his car at a police checkpoint near Kabul's main airport. The recent violence was a "turning point" for Afghanistan, just as the December massacre of schoolchildren was for Pakistan, Ghani said.
The wave of attacks came after the Taliban postponed Pakistan-brokered peace talks following news of the death of its leader Mullah Omar. The militant group has claimed responsibility for most of the recent attacks.
Fragile Ties
"If Pakistan isn't able to bring the Taliban to the negotiating table, they can crack down on their terrorist activities," Ghani said. Terrorist training camps are still operating in Pakistan, he added.
In an e-mailed statement late Monday, Pakistan's foreign ministry said the nation "remains committed to supporting and facilitating an Afghan-led and Afghan-owned peace and reconciliation process in Afghanistan." It added: "Terrorism is our common enemy and requires cooperative approach to combat this menace."
The new government of Afghanistan had expected less violence after building a good relationship with Pakistan, Jawid Kohistani, a former Afghan military official who is a political analyst in Kabul, said by phone. "Afghanistan's relationship with Pakistan is now in a state of fragility unless Pakistan helps facilitate the continued round of peace talks between Afghan and Taliban officials."
Ghani said he spoke Sunday night with Pakistani Prime Minister Nawaz Sharif, who pledged to chart out an action plan against terrorism. Decisions on implementation will be taken when an Afghan delegation visits Pakistan on Thursday.
"Our relations with Pakistan are based on our national interests, on top of which comes the security and safety of our people," Ghani said, adding that Pakistan's decisions over the next few weeks will affect bilateral ties for decades. "If our people continue to be killed, relations lose meaning and I hope it will not happen."
Before it's here, it's on the Bloomberg Terminal.
LEARN MORE