Malaysia's benchmark stock gauge entered a technical correction, as investors pulled funds amid concern about the political scandal enveloping Prime Minister Najib Razak and the worsening economic outlook.
The FTSE Bursa Malaysia KLCI Index slid 1.7 percent to 1,654.37 at 5 p.m. local time, the lowest close since March 2013. The measure has lost 11 percent from its April 21 peak. Tenaga Nasional Bhd., the state-owned power utility, was the biggest drag on the gauge on Monday. The ringgit slid for a fourth day, the lowest level since 1998.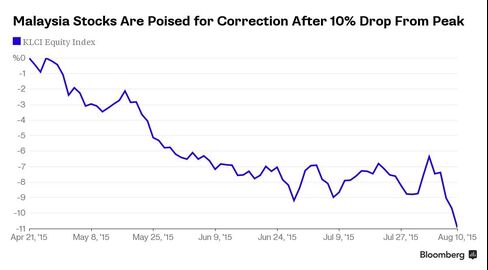 Foreign funds have dumped $3 billion of the nation's shares this year amid concern the crisis will distract Najib as a commodities rout and the prospect of higher U.S. interest rates threaten economic growth. The prime minister is fighting off a scandal linked to 1Malaysia Development Bhd., a debt-ridden state investment company.
"Sentiment will remain bearish and stocks will be volatile in the short term," said Danny Wong Teck Meng, chief executive officer of Kuala Lumpur-based Areca Capital Sdn., which manages about $224 million in assets. Investors are concerned about how far the ringgit will fall given the political situation and declining currency reserves, he said.
Malaysia's ringgit depreciated 2.6 percent last week, its biggest loss since December. Foreign-exchange reserves fell below $100 billion for the first time since 2010 last month, the central bank said after markets closed on Friday.
Bond Outflows
Overseas ownership of the nation's government and corporate debt dropped 2.4 percent in July to 206.8 billion ringgit ($52.7 billion), the least since August 2012, other data released Friday showed.
The Wall Street Journal reported on July 3 that $700 million may have moved through government agencies and state-linked companies to accounts bearing Najib's name. The premier has denied taking money for personal gain and has described the furor as part of a campaign to remove him from office. A probe into about 2.6 billion ringgit ($662 million) that was deposited into Najib's personal accounts found that the funds were legal donations from the Middle East.
Tenaga sank 3.5 percent to the lowest close since January 2014. CIMB Group Holdings Bhd. and Malayan Banking Bhd. tumbled more than 1.8 percent.
Before it's here, it's on the Bloomberg Terminal.
LEARN MORE