Live in Britain? Your Utility Bills Could Jump This Winter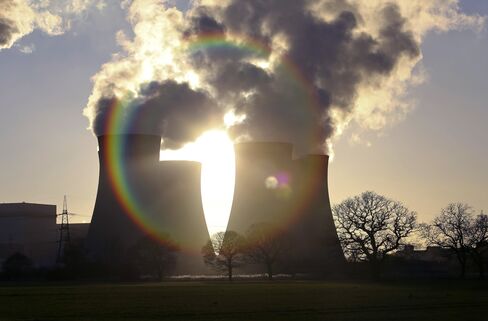 U.K. power and natural gas traders may turn bullish when they return from summer holidays.
As prices for the coming winter trade near record lows, there's an emerging risk of tighter supplies. Colder weather, the smallest buffer of power capacity in a decade and insufficient gas stored in Ukraine may shake traders out of their summer lull.
"The winter has all sorts of upside from where we are now," said Trevor Sikorski, head of gas, coal and carbon at London-based Energy Aspects, a consultant to the industry. "It does seem we are due for a colder winter."
Here are five charts to turn bears into bulls.
1) The return of cold weather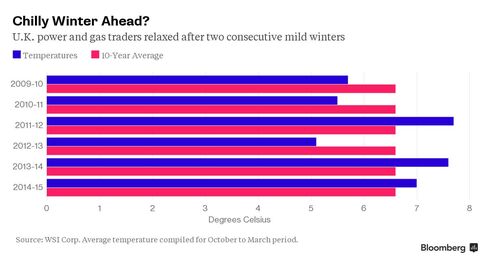 U.K. temperatures were at least 0.6 degrees Celsius (1.1 Fahrenheit) above the 10-year average in the past two winters, according to WSI Corp. Europe may face a colder season in 2015-16, Commodity Weather Group said in a forecast. That would force up demand for heating.
2) Ukraine risk remains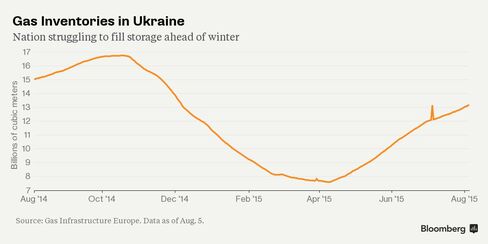 Ukraine doesn't have enough gas to last through the winter and an accord to resume Russian supplies is yet to be signed. The nation had 13.2 billion cubic meters (465 billion cubic feet) of fuel in storage facilities on Wednesday, 12 percent less than a year earlier, according to data from lobby group Gas Infrastructure Europe.
If it gets really cold in Eastern Europe, there's a possibility that could disrupt supplies.
Storage sites in Ukraine, which carries more than 10 percent of European gas demand through Soviet-era pipelines from Russia, are "too low at beginning of winter to guarantee security of transit in case of a cold winter," said Thierry Bros, an analyst at Societe Generale SA in Paris. "Ukraine has no money to pay for gas."
3) Tightest power supplies in a decade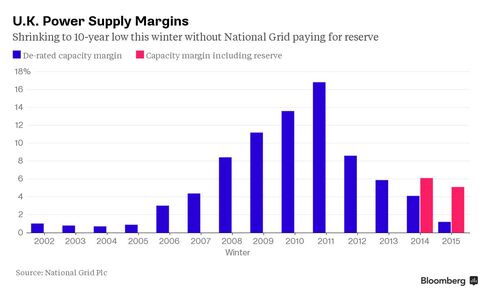 The U.K.'s amount of spare capacity is poised to shrink to a 10-year low this winter, forcing the nation's grid to pay a reserve of plants to keep the lights on.
Stations in the reserve would only be called on to produce if there wasn't enough supply to meet demand. A plant stepping in to cover an unplanned outage could potentially earn 3,000 pounds ($4,700) a megawatt-hour, according to rules by regulator Ofgem. That's almost 70 times the current market rate.
4) Gas stockpiles at 6-year low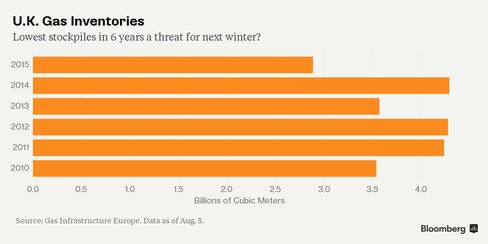 Gas inventories in the U.K., the European Union's biggest consumer after Germany, are at their lowest level for this time of year since at least 2010, data from GIE in Brussels showed. That reduces the buffer in case supply disruptions in Ukraine result in more exports from Britain to mainland Europe.
Rough, the U.K.'s biggest storage site owned by Centrica Plc, will have its space limited by about 25 percent this winter, while SSE Plc said it will mothball a third of withdrawal capacity at its Hornsea site.
5) Carbon tax pushing coal out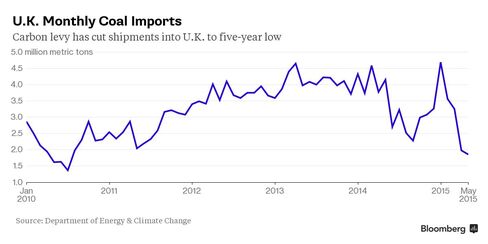 Coal shipments into the U.K. plunged as an almost doubling of the emissions tax cut the profitability of power plants fired by the dirtiest fossil fuel, according to data from the Department of Energy and Climate Change. That will push up the cost of producing power from coal, making producers more reliant on gas.
While utilities built up coal stockpiles before the tax increase, most of that will be used by the end of September, according to Energy Aspects's Sikorski.
Before it's here, it's on the Bloomberg Terminal.
LEARN MORE