Yuan Devaluation Ripples Across Asia as Currencies, Metals Drop
China's devaluation of the yuan sparked a chain reaction across global markets, weighing on equities, emerging markets and commodities while giving bonds a boost amid concern the world's second-largest economy is headed for a deeper slowdown.
The Standard & Poor's 500 Index sank 1 percent by 4 p.m. in New York, a day after its steepest rally since May. Oil plunged to a six-year low and industrial metals sold off, sending the Bloomberg Commodity Index down 1.6 percent. Asian currencies fell as the dollar climbed. Emerging-market equities collapsed into a bear market, while demand for Treasuries surged.
The unexpected move by China's policy makers bolstered speculation the Federal Reserve may delay the much-anticipated increase in U.S. interest rates, with faltering growth elsewhere potentially impacting on America's economy and the drop in commodity prices damping inflation. Selling was heaviest among companies reliant on business with China, the world's biggest consumer of energy and industrial metals.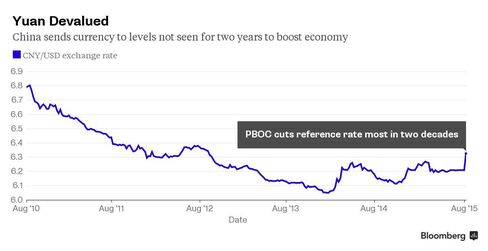 "It's disappointing after one day of recovery to see oil roll back over, rates come back down and the market weaker," Tom Wright, the New York-based director of equities at JMP Securities LLC, said by phone. "We spend a lot of time obsessing over Greece or Puerto Rico but China is a much bigger economy and a much bigger problem to the global economy and devaluing the currency is shaking people up."
Luxury Brands
Carmakers and luxury-goods producers slipped, with the yuan's steepest decline in at least 20 years seen as eroding the buying power of Chinese consumers. General Motors Co. and Ford Motor Co. lost more than 1.9 percent, while Tiffany & Co. fell 2.1 percent. Apple Inc., which counts China as a major market for its iPhones, slid 5.2 percent.
Google Inc. was bright spot in the market, advancing 4.3 percent after saying late Monday its businesses will be reorganized into a new holding company called Alphabet Inc.
Materials producers led losses in the S&P 500, largely erasing their Monday rally. Oil dropped after the biggest advance in a month in New York as a recovery in Iranian production pushed OPEC supplies to the highest in more than three years. West Texas Intermediate crude sank 4.2 percent to settle at $43.08 a barrel, the lowest level since March 2009, while Brent slid 2.4 percent to $49.18.
Freeport-McMoRan Inc. sank 13 percent for the biggest drop in the S&P 500 as copper sank 3.5 percent in London. Aluminum slid 2 percent after Goldman Sachs Group Inc. cut its price forecasts for the metal.
Gold Retreats
Gold gave up most of its earlier gains as the meltdown across commodity markets revived concerns over deflation, diminishing the appeal of precious metals as a store of value. Gold futures gained 0.3 percent to settle at $1,107.70 in New York, after touching $1,119.10, the highest level since July 20.
Treasuries rallied, sending yields on 10-year notes down by nine basis points, or 0.09 percentage point, to 2.14 percent, the lowest level since May 29. The probability of the Fed raising rates in September slipped back below 50 percent, to 46 percent from 54 percent on Monday, according to futures trading data compiled by Bloomberg.
"Some of it is about risk aversion and some is about economic expectations," said Guy LeBas, chief fixed-income strategist at Janney Montgomery Scott LLC in Philadelphia, which manages $61 billion in assets. "Devaluation of the Chinese yuan is a way for the U.S. to import deflation from China."
Currency War
U.S. data Tuesday indicated worker productivity struggled to gain traction in the second quarter. Less efficiency limits how quickly the economy can grow without spurring inflation, adding another variable for policy makers to consider in deciding when to boost borrowing costs.
China's policy shift follows economic reports this month showing a plunge in overseas shipments, weaker-than-estimated manufacturing and slowing credit growth. The move heightens the risk of competitive currency devaluations as global demand wanes. The devaluation fueled speculation that central banks will keep interest rates lower for longer.
The dollar soared against currencies from commodity-exporting nations. The greenback advanced more than 1 percent against its New Zealand and Australian counterparts, while a gauge of Asian currencies slumped to its lowest level since 2009. The euro climbed versus all of but one of its major peers as Greece reached an accord with creditors on the terms of a third bailout deal.
Emerging Stocks
The yuan dropped 1.8 percent to 6.3231 per dollar in Shanghai, the biggest one-day decline since China unified rates in January 1994. The devaluation was a one-time adjustment aimed at relieving pressure on exporters, the People's Bank of China said in a statement.
Chinese stocks reversed gains, with the Hang Seng China Enterprises Index -- which tracks mainland shares listed in Hong Kong -- falling 0.2 percent, while the Shanghai Composite Index lost less than 0.1 percent.
Developing-nation stocks struggled, with the MSCI Emerging Markets Index dropping 1.1 percent, bringing losses from a peak reached in September 2014 to more than 20 percent, the common definition of a bear market. Chinese airlines drove losses on concern a weaker yuan will boost the costs of servicing dollar-denominated debt, while exporters gained.
For more, read this next:
Before it's here, it's on the Bloomberg Terminal.
LEARN MORE