'Fantastic Four' Box-Office Flop Could Cost Fox $60 Million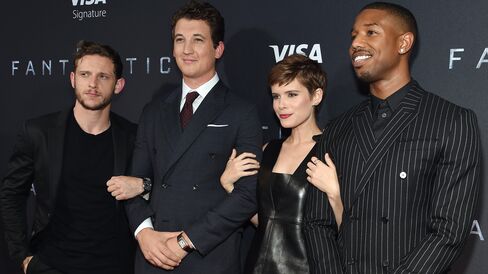 21st Century Fox Inc. may lose as much as $60 million on "Fantastic Four," the superhero reboot that flopped in theaters this weekend, according to FBR & Co.
The film, based on comic-book characters licensed by Fox, was hammered by critics. It was the first Marvel movie in three years not to open in first place, according to Rentrak Corp. Fox has slipped to fourth place this year at the domestic box office, after leading all studios in 2014.
"This movie is now pacing for a writeoff and a loss of over $60 million, creating a negative start to Fox's already cautious forecast," Barton Crockett, an analyst at FBR & Co., said in a research note Sunday.
Chief Financial Officer John Nallen told investors on an Aug. 5 conference call that he expected profit at the film studio to decline by $200 million this year from the $1.45 billion reported for the fiscal year ended June 30. He cited marketing costs for three films next summer -- "X-Men," "Independence Day" and "Ice Age" -- that won't contribute to profit until the following fiscal year.
"Fantastic Four," directed by Josh Trank, opened on Aug. 7 and produced $25.7 million in U.S. and Canadian ticket sales over the weekend. That compares with a $56.1 million opening weekend for the 2005 version, which went on to generate $154.7 million in its domestic theatrical run.
Fox spent $120 million to make the latest "Fantastic Four," according to the studio. A spokesman, Chris Petrikin, declined to comment on potential losses. Fox has scheduled a sequel for June 2017, according to Box Office Mojo. Fox is committed to the property, according to Petrikin.
Only 9 percent of critics gave "Fantastic Four" a positive review, according to RottenTomatoes.com. Trank took to Twitter on Thursday to disavow the movie, saying the version he created didn't make it into theaters. He later deleted the post.
Representatives for Trank didn't immediately respond to requests for comment.
"The bad buzz was a major issue and it spreads faster than ever" on social media, said Phil Contrino, chief analyst at Boxoffice.com.
Before it's here, it's on the Bloomberg Terminal.
LEARN MORE