Rolls-Royce CEO Allays Staff Fears Over ValueAct Spinoff Threat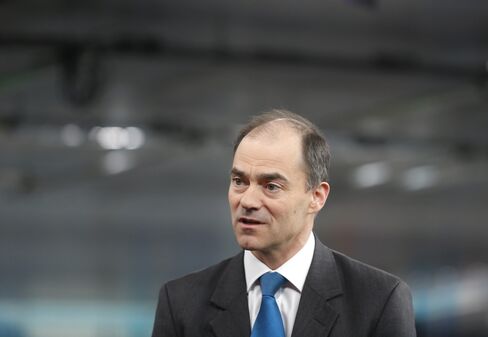 Rolls-Royce Holdings Plc Chief Executive Officer Warren East addressed employees after meeting with ValueAct Capital Management to dispel concern the activist fund may pressure the engine-maker into disposing of some assets.
"The activist shareholder has caused a lot of speculation in the press, some of which I understand appears concerning as it talks about break-ups and spin-offs," East wrote in an internal memo to his 54,000 employees dated Aug. 3 and obtained by Bloomberg News. "I suggest we engage with the activists rather than shy away, properly explain our plans and the opportunities, and get them aligned with our agenda."
The London-based manufacturer of powerplants for aircraft and frigates said June 31 that ValueAct had increased its stake to 5.44 percent, after which East and Chief Financial Officer David Smith had met with the shareholder. The fund, which is run by Jeffrey Ubben, manages more than $18 billion and has helped influence the direction of companies including Microsoft Corp. and Sara Lee Corp.
Rolls had climbed 13 percent to 849 pence by market close on Aug. 3 following the announcement. That was its largest two-day jump in almost seven years as investors flocked to the stock amid speculation that the fund could pressure the biggest U.K. manufacturer into disposing of less performing assets.
'Fast Enough'
"Whilst with some activist interventions such dramatic outcomes do indeed occur, mostly these people are simply capitalists seeking the opportunity of a business in some kind of transition," East said in the message. "If management fails to act quickly enough to steer the company through such a transition, then the activists often whip up other shareholders to force a change."
While the company's order book for civil large engines is set to double in three or four years as Airbus Group SE boosts production of the A350 wide-body model, it's marine business has lagged behind, with profit falling 90 percent in the first half to 4 million pounds ($6.2 million), Rolls-Royce said July 30.
Speculation that East might meet previous calls from other investment funds to sell that division was heightened after people familiar said ValueAct was more interested in pursuing growth at Rolls-Royce's aircraft-engine manufacturing and servicing businesses.
Cutting Guidance
East was forced to reduce full-year guidance on his second day in the position after succeeding John Rishton, who had overseen a string of profit revisions during his four-year tenure. Investors had "reluctantly" accepted the new guidance and forecast for challenges in the next financial year, the incumbent said.
"Our operation appears from the outside to need substantial modernising," East said in the memo. "This presents an opportunity for a dramatic increase in profit."
London-based newspaper The Telegraph earlier reported East's note to employees. A spokesman for Rolls-Royce confirmed the content of the memo and said reaction from employees had been "very positive" as the CEO seeks an "open approach to communication" with workers.
East reiterated that the company's strategy is "broadly right" and that he doesn't see a need for any radical change, adding that an ongoing operational review is "no more than any normal incoming CEO" would do.
In fact, the speculation surrounding Rolls-Royce's future direction risks alienating customers concerned about the future positioning of each of its divisions, East said.
"They need reassurance that when they make a big bet on Rolls-Royce -- in some cases putting the future of their own businesses at stake -- we will be there for them in the long run," he said.
Before it's here, it's on the Bloomberg Terminal.
LEARN MORE