Israeli President Straddles Rift With Arabs, Drawing Threats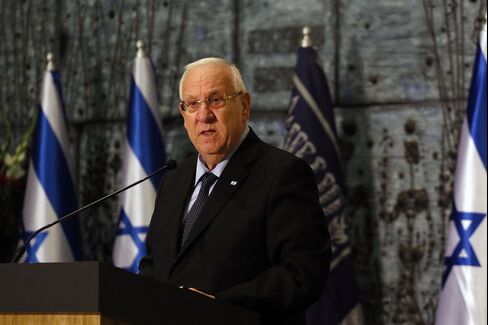 Israeli President Reuven Rivlin's family has lived in Jerusalem for seven generations since 1809, savoring a mixed city where many Arabs once spoke Yiddish and Jews knew Arabic. His father translated the Koran into Hebrew.
The 75-year-old head of state recites his pedigree to explain why he's used the first year of his ceremonial presidency to preach equality between Israel's Jewish and Arab citizens, and decry the racism and chauvinism he says has permeated the country's political discourse.
"To believe a Jewish democratic state means democracy only for Jews is a disaster for the very existence of Israel," Rivlin said in an interview at his official residence in Jerusalem.
That this casual, back-slapping politician has become, in the eyes of admirers, his nation's moral beacon is all the more surprising given the other conclusion that's helped to form his vision of Arab-Israeli co-existence: there's no room for an independent state of Palestine.
"The paradox is he speaks forcefully about inclusion of the Arab minority while his bottom line negates the Palestinian claim to be recognized as a sovereign," says Yoram Meital, chairman of the Herzog Center for Middle East Studies and Diplomacy at Israel's Ben-Gurion University of the Negev. "What are the chances that this paradigm will lead to serious negotiation? Very little."
Rivlin made himself a lightning rod this month after saying he "felt shame" over the death of a Palestinian infant whose West Bank home was set aflame by suspected Jewish arsonists. The child's father also died over the weekend from injuries sustained in the fire. The president's security detail told police Rivlin had received death threats, and hundreds of people gathered outside the president's residence on Friday to show support for him.
Iconic Predecessor
Stepping into the shoes of Shimon Peres, Israel's Nobel peace laureate, looked like a challenge for Rivlin, who says he regards the Palestinian-Israeli conflict as hopeless. Yet in the year since he's taken office, the former lawyer and two-time parliament speaker has left his stamp, using his position to insist on equality for Israeli Arabs.
Rivlin became the first president to join the annual memorial ceremony in the Arab town of Kafr Kassem, where Israeli armed forces shot to death 49 residents in 1956. In May, he rebuked Prime Minister Benjamin Netanyahu after his government sought to put Palestinians and Jews on separate West Bank buses. Netanyahu, who initially opposed Rivlin's presidential run, later dropped the plan.
"If we show we can live together with the Arabs in Israel, it will show the Palestinians that we can live together," said Rivlin, who celebrated his first anniversary in office on July 24. Israel's Arab minority accounts for 21 percent of the country's 8.3 million people.
'Empty Gestures'
Arab lawmakers have reservations about him. Jamal Zahalka, a member of the Knesset from the Joint Arab List, declined Rivlin's invitation to join Muslims and Jews at his home for a traditional Iftar dinner at the end of the daily fast in the month of Ramadan.
"We don't need these ceremonies and empty gestures of respect," Zahalka said. "He has no authority to change things and we don't expect very much from him."
The country as a whole has a favorable view of the affable elder statesman, a 40-year vegetarian and Beitar Jerusalem soccer club fan who served in parliament two decades before becoming president. A May poll by the Dialog Institute on the popularity of Israel's leaders put Rivlin on top, with a satisfaction rating of 72 percent. The survey of 506 adults had a margin of error of 4.4 percentage points.
Federated State
Rivlin draws his world view from Vladimir Ze'ev Jabotinsky, the spiritual father of Netanyahu's Likud Party, who sought a Jewish state on both banks of the Jordan River and whose portrait hangs behind the president's desk. Other treasures in his office include a picture of his father, Yosef Rivlin, in the early sixties with Richard Nixon after both lost bids to be president, and the timeworn volumes of the Koran he translated.
Rivlin doesn't think Israel could offer a two-state solution that would satisfy the Palestinians. Instead, he says Jews and Palestinians can each have their homeland in a federated state, a variation of the bi-national state concept championed by a minority of Palestinians despairing of ever achieving an independent state.
The president offers few details beyond describing a confederation with separate entities of Israelis and Palestinians, with equal and full rights for all. Israel would have sole responsibility for border security and the Palestinian side would be demilitarized.
Key to the idea is a renewed inflow of Jews from other countries to maintain a Jewish majority. Rivlin is aiming for 4 million: 2014 immigration hit a 10-year annual high at 26,500.
"I really believe Jews will have to return to their homeland," he said.
Before it's here, it's on the Bloomberg Terminal.
LEARN MORE