Iraqi Premier Tests Authority in Anti-Graft Push After Protests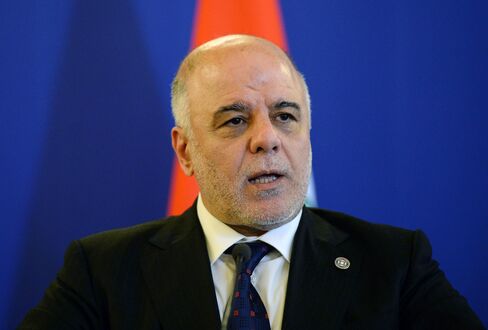 Iraqi Prime Minister Haidar Al-Abadi, backed by the nation's top Shiite cleric, vowed to investigate corruption and proposed abolishing key government posts in a move that will test his authority in the fractured country.
Abadi, in a seven-point plan that has to be ratified by parliament, said the positions of vice presidents and deputy prime ministers should be eliminated immediately as part of a push to improve performance and tackle corruption. Nouri al-Maliki, Abadi's predecessor and one of the country's three vice presidents, said he supports the plan, which was also approved by the cabinet.
Thousands of Iraqis took to the streets on Friday to protest what they describe as widespread corruption in OPEC's second-biggest producer. While the plunge in oil prices and the battle against Islamic State militants are depleting the government's coffers, many Iraqis say corruption is compounding the nation's economic woes.
"Abadi chose the right time to take these decisions," Hameed Fayad, a political science professor in Baghdad University, said by phone. "The real battle will be in parliament in the coming weeks, but in the end, the religious authority and people's word will have the upper hand."
Ayatollah Ali Al Sistani, Iraq's top Shiite cleric, urged the prime minister on Friday to tackle corruption and fire any official "who tries to hinder reform, no matter what their position is."
Corruption Index
Iraq ranked 170 of 175 countries in Transparency International's 2014 Corruption Perceptions Index. Previous governments have promised action against graft, without always delivering. The Commission of Integrity, an anti-corruption agency, in 2012 accused 14 generals and Defense Ministry officials of taking kickbacks in an arms deal with Russia worth $4.2 billion. All the men denied the allegations; one resigned.
Maliki's critics blame his government for failing to tackle corruption. The Shiite politician resigned a year ago after Islamic State militants captured large swathes of the country. He has been since accused of trying to undermine Abadi's authority, charges he denies.
In additional to Maliki, Iraq has two other vice presidents and three deputy prime ministers. Positions are divided along sectarian and ethnic lines among the country's Shiites, Sunni Arabs and Kurds.
Abadi said his plan includes investigating "past and present corruption files" under the supervision of an anti-graft commission. He also decided to reduce the number of bodyguards assigned for government officials. Senior positions in ministries should be filled by independent candidates rather than along sectarian or partisan lines, Abadi said.
Investigation Started
"Abadi is using this as a way to reassert his authority in the political sphere," said Glen Ransom, an Iraq analyst at Control Risks in Dubai. "If he fails to pass this through, he'll be seen as weaker than before."
Shortly after Abadi's decision, Iraqi prosecutors said they'll investigate corruption charges against Deputy Prime Minister Baha' Al Araji, local media reported. Al Araji said that he requested a probe into accusations leveled against him by "ill-intentioned and enemy media outlets and social media networks."
The parliamentary bloc of Shiite cleric Muqtada Al-Sadr, to which Araji belongs, welcomed Abadi's plan, lawmaker Ameer al-Kinani said in a statement. Vice President Osama Al-Nujaifi also supported the move, Al Mada Press, a local news agency, reported.
'Not Well Studied'
Not everybody agreed.
"Fighting corruption and abolishing redundant posts is good, but these decisions are not well-studied," Mahmoud Othman, a Kurdish lawmaker, said by phone. "Those in these posts were voted in by parliament and they belong to political blocs. Abadi, if none of these decisions were approved, should resign."
Friday's mass protests and Sistani's backing will likely be enough for the prime minister to prevail, according to Luay al-Khatteeb, nonresident fellow at Brookings Doha Center.
"Even those who are not wholeheartedly supporting Abadi they are afraid of being haunted and chased by the people," he said by phone. "The people are saying, enough is enough."
Before it's here, it's on the Bloomberg Terminal.
LEARN MORE