Not-So 'Fantastic Four' Flops as 'Mission: Impossible' Cruises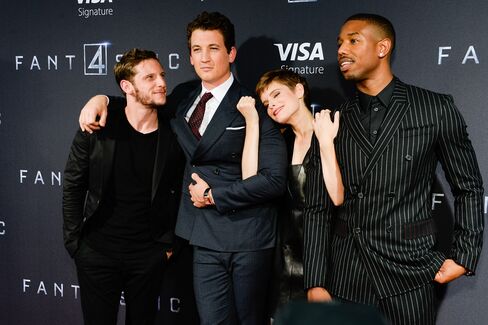 "Fantastic Four," a re-imagining of the Marvel superhero team, flamed out at the weekend box office, missing projections that would have put it among 20th Century Fox's biggest debuts of the year.
The film collected $26.2 million in North American cinemas, placing second behind Tom Cruise's return in "Mission Impossible: Rogue Nation" with $29.4 million, Rentrak Corp. said Sunday in an e-mailed statement. BoxOffice.com had forecast $43 million for "Fantastic Four."
"It's more about 'fantastic flop,'" said Jeff Bock, senior box office analyst at Exhibitor Relations Co. in Los Angeles. "Everyone expected it to open at No. 1. It was a shock."
After a record 2014, 21st Century Fox Inc.'s film division has had fewer blockbusters to release this year. The studio's market share has fallen from a leading 19 percent in 2014 to just above 11 percent this year, according to researcher Box Office Mojo. Its biggest 2015 domestic films, "Kingsman: The Secret Service," and "Home" came out in February and March.
"Fantastic Four" received poor reviews before opening, and got bad reactions from moviegoers on social media, said Phil Contrino, chief analyst for BoxOffice.com. The film's director, Josh Trank, tweeted that he had made a "fantastic version" of the film that viewers would never see, suggesting studio interference.
"It was a case of the director and the studio clashing and having different outlooks on a project," Contrino said. "That often results in a muddled film."
Post-Mortem
While the results were disappointing, 20th Century Fox supports all the filmmakers involved in making "Fantastic Four," said Chris Aronson, head of domestic distribution. The studio had been hoping to collect at least $40 million in the film's first weekend, he said.
"We'll have to do a post-mortem," he said in a telephone interview. "Our marketing department put together an amazing campaign, but sometimes there are forces at work that conspire against you."
In "Fantastic Four," four young adults transport to an alternate universe, which changes their physical form and gives them superpowers. The film had a production budget of $120 million, according to Variety.
At Risk
The Fantastic Four comic series on which the film was based was never as popular as Spider-Man or Batman, and couldn't overcome the film's missteps, Bock said. The poor box office puts the franchise at risk, as Fox has had much greater success with X-Men, another comic-book series, and may decide to focus there, he said.
"I haven't seen the foreign grosses yet but I suspect they won't be enough to keep the franchise going," he said.
20th Century Fox has enjoyed great success with comic book characters and will look for ways to feature Fantastic Four's characters in the future, Aronson said.
Reviews haven't been good. "Fantastic Four" has garnered just 9 percent positive notices from critics, according to aggregator Rottentomatoes.com.
"An unfortunate movie that does an embarrassing disservice to the decades-old property and is a frightful waste of all the talent involved," Brian Truitt wrote in USA Today.
Mister Fantastic
Miles Teller, who starred in the art-house film "Whiplash," plays Reed Richards aka Mister Fantastic. Michael B. Jordan is Johnny Storm, who transforms into the Human Torch, while Kate Mara plays Sue Storm and becomes Invisible Woman. Jamie Bell is Ben Grimm who changes into The Thing.
"Fantastic Four" did outdraw three other new releases -- "Ricki and the Flash" with Meryl Streep and Kevin Kline, "The Gift" and "Shaun the Sheep Movie."
"The Gift," co-produced by Blumhouse Productions, placed third and collected $12 million, beating a forecast of $8.5 million. It's the first release from STX Entertainment, a startup backed by TPG Capital Management and China's Huayi Brothers Media Corp. The film had a budget of $5 million, according to the studio.
The thriller, the directorial debut for actor Joel Edgerton, stars Jason Bateman and Rebecca Hall as a young married couple whose life is turned upside down by a chance meeting with the husband's high school friend. The film won rave reviews, with 91 percent favorable.
Streep Returns
"Ricki and the Flash," from Sony Pictures, placed seventh and collected $7 million, missing BoxOffice.com's forecast of $9 million. Streep plays Ricki, a guitarist who gave up everything for her career and comes home to face her family. Streep's daughter, Mamie Gummer, plays her fictional daughter as well.
The fourth new release was Lions Gate Entertainment Corp.'s "Shaun the Sheep Movie." It collected $4 million, compared with the $5.8 million predicted by Boxoffice.com. The PG-rated animated comedy generated almost unanimously positive reviews.
Weekend sales for the top 10 films fell 32 percent to $115.4 million from a year earlier, Rentrak said. Year-to-date sales have increased 7.2 percent to $7.07 billion.
The following table has U.S. movie box-office figures provided by studios to Rentrak. The amounts are based on actual ticket sales for Aug. 7 and Aug. 8, with estimates for Sunday.
                   Rev.    Pct.             Avg./   Total
 Movie            (mln)    Chg.  Theaters  Theater   (mln) Wks
================================================================
1 Rogue Nation     29.4    -47    3,988    7,372    108.7    2
2 Fantastic Four   26.2     --    3,995    6,558     26.2    1
3 Gift, The        12.0     --    2,503    4,797     12.0    1
4 Vacation          9.1    -38    3,430    2,666     37.3    2
5 Ant-Man           7.8    -39    2,910    2,689    147.4    4
6 Minions           7.4    -41    3,123    2,360    302.7    5
7 Ricki             7.0     --    1,603    4,367      7.0    1
8 Trainwreck        6.3    -35    2,525    2,485     91.1    4
9 Pixels            5.4    -48    2,864    1,896     57.6    3
10 Southpaw         4.8    -37    2,274    2,095     40.7    3



Top 10 Films Grosses



   This Week     Year Ago      Pct.
     (mln)         (mln)       Chg.
===================================
    $115.4        $169.7     -32.0



Year-to-date Revenue



     2015          2014
      YTD           YTD        Pct.
     (mln)         (mln)       Chg.
===================================
    $7,065        $6,591       7.2

Source: Rentrak Corp.
Before it's here, it's on the Bloomberg Terminal.
LEARN MORE