Typhoon Soudelor Heads for Mainland China After Battering Taiwan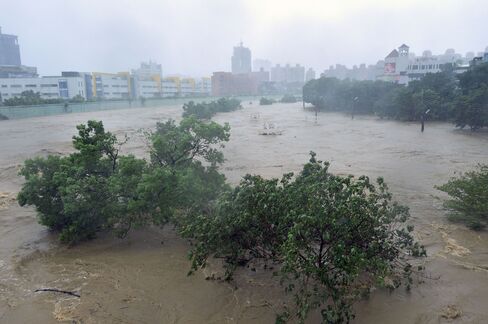 China evacuated almost 160,000 coastal residents and canceled some flights and train services after Typhoon Soudelor left millions without power in Taiwan.
The storm was centered 40 kilometers (25 miles) northeast of Taiwan's outlying Penghu Island as of 2 p.m. Saturday and heading northwest towards mainland China at 18 kilometers per hour, according to Taiwan's Central Weather Bureau. Maximum sustained winds eased to 137 kph, compared with 162 kph and gusts of 198 kph overnight.
Soudelor is the fourth typhoon to trigger sea or land warnings in Taiwan this year and made landfall on the sixth anniversary of Typhoon Morakot, which killed 600. Six people were confirmed dead as a result of this latest storm, the Emergency Operations Center said. They include a woman and her daughter who drowned in the northeastern county of Yilan, a man struck by a sign and a firefighter killed by a drunk driver while clearing a downed tree from a road.
Schools and offices were shut and more than 300 flights were canceled throughout Taiwan as more than a meter of rain fell on some areas. Some 3,000 troops were deployed to aid disaster relief after almost 3.5 million power customers experienced disruptions during the storm. Some 1.8 million had yet to have service restored as of 2:40 p.m., Taiwan's state power company said.
Local TV showed images of landslides and flooding throughout Taiwan, with fallen trees hitting cars and blocking roads. Soudelor's winds tore off roofs, signs and at least one bus stop from their fixtures and threw motor scooters into the air. Carriages of a freight train were overturned in Suao, in the northeast where winds were the strongest.
More than 1,200 millimeters (47 inches) of rain has fallen on Taiping Mountain in Yilan since Thursday, the weather bureau said.
China's Fujian province issued its highest typhoon alert as Soudelor appeared set to make landfall between the cities of Jinjiang and Fuqing on Saturday evening, the official Xinhua News Agency said. Flights to the provincial capital of Fuzhou were canceled and about 100 trains running through the city of Xiamen suspended services. An estimated 158,000 people had been moved to safer areas inland.
Before it's here, it's on the Bloomberg Terminal.
LEARN MORE