Botched EPA Cleanup Spills Mine Waste Into River in Colorado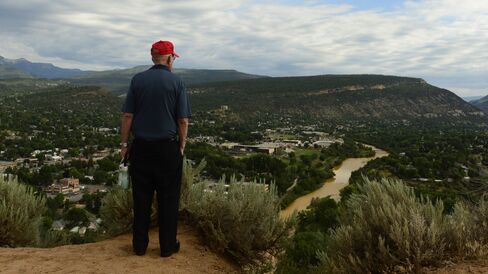 An environmental cleanup of an abandoned mine in the mountains of Colorado went horribly wrong, leading to the spill of one million gallons of contaminated water into a creek that eventually drains into the San Juan River.
The incident happened when workers for the Environmental Protection Agency were trying to clean the long-abandoned Gold King Mine, but allowed it to breach a berm, or small strip of raised land, and the toxic water flowed into the Animas River. It turned the clear mountain stream a mustard orange color, according to photos posted online. The local sheriff's office on Aug. 6 closed the river to swimming, kayaking and rafting, and it remained closed Saturday.
"It's a sad irony that a program attempting to avoid harm to the environment, appears to have caused it," said Taylor McKinnon, public lands coordinator for the Center for Biological Diversity, a nonprofit group in Colorado. As the polluted waste moves downstream, "it will dilute, but we don't know what's in this water," McKinnon said.
According to a statement posted online by the San Juan Basin Health Department, the acidic mine water contains high levels of sediment and metals. Officials warned downstream users to shut off intake valves.
The EPA said in a statement Saturday that it is providing technical and laboratory assistance, and that tests found an elevated concentration of acid and higher levels of such metals as copper, zinc and manganese in areas affected by the spill.
Downstream Impacts
The five drinking water systems that might be impacted downstream in New Mexico have closed off intakes from the river and won't start up again until water quality samples improve, the EPA said. The water systems have the ability to store water or use alternative sources, the agency said.
The EPA, through its Superfund program, has been investigating the toxic chemicals in water and soil around abandoned mines near Silverton, Colorado, in the mountains in the southeast part of the state. The Animas River has had declining water quality since 2008, showing increased levels of heavy metals, making it toxic to most trout.
Before it's here, it's on the Bloomberg Terminal.
LEARN MORE