The New Diet Pepsi: Same Silver Can, But Aspartame Is Banished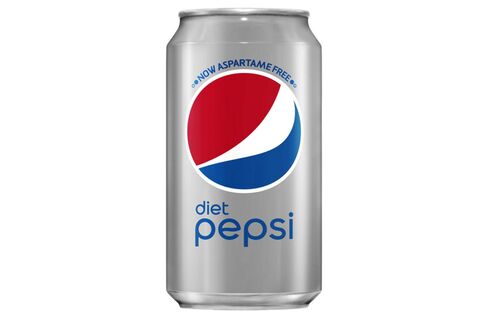 Diet Pepsi made without aspartame is scheduled to hit shelves across the U.S. Monday, marking the biggest change to the beverage in three decades.
PepsiCo Inc., facing declining Diet Pepsi sales amid a customer backlash against the controversial sweetener, started reformulating the recipe about two years ago. Keeping the taste mostly unchanged was difficult, said Seth Kaufman, a senior vice president at Pepsi who oversaw the project.
"The mouthfeel had to be in line with what consumers expect when they get that silver can," Kaufman said in an interview. "We obviously wanted to do it in the context of a phenomenal-tasting Diet Pepsi that our consumers will know and love because it's very similar to the Diet Pepsi they've been drinking."
The new recipe for Diet Pepsi and Diet Pepsi Wild Cherry replaces aspartame with a blend of sucralose and acesulfame potassium. The move follows a 5.2 percent decline in Diet Pepsi's sales volume last year, according to Beverage Digest. Sales of Coca-Cola Co.'s Diet Coke, which also uses aspartame, dropped 6.6 percent. Coca-Cola has no plans to remove aspartame from the beverage.
"Americans have fallen in love with Diet Coke, the No. 1 zero-calorie sparking beverage, because they enjoy its taste," said Scott Williamson, a spokesman.
Kaufman declined to say whether the new Diet Pepsi might draw customers who are loyal to Diet Coke but are seeking a soda without aspartame.
'You Never Know'
"I'm not going to speculate on what this does for the competition," he said. "It tastes great, and it's what diet cola drinkers in the U.S. want, so you never know."
Acesulfame potassium was first approved for food in 1988 and is used in drinks such as Coke Zero, which also contains some aspartame. Sucralose, marketed as Splenda and used in a version of Diet Coke, was first approved in 1998. The U.S. Food and Drug Administration has deemed both sweeteners safe. Diet Coke with Splenda has been in the market for 10 years.
Soda's headwinds in the U.S. go beyond aspartame. A recent Gallup poll found that 62 percent of American avoid diet soda. Only 50 percent of respondents said they actively avoid sugar, and 47 percent stay away from fat.
The concerns about aspartame come as U.S. consumers are increasingly seeking natural and organic ingredients in their food and drinks. Blogger Vani Hari, who calls herself the Food Babe, has deemed aspartame "one of the most dangerous substances allowed in our food supply."
The FDA approved it for use in some foods and beverages in 1981 and as a "general purpose sweetener" in 1996. The agency has conducted more than 100 studies supporting its safety. Still, customers have repeatedly asked PepsiCo for a diet cola made without the product, Kaufman said.
"We pride ourselves on innovating against consumer demands," Kaufman said. "We think we nailed it."