The Answer to a Shrinking U.S. Bra Market: A Brassiere That Fits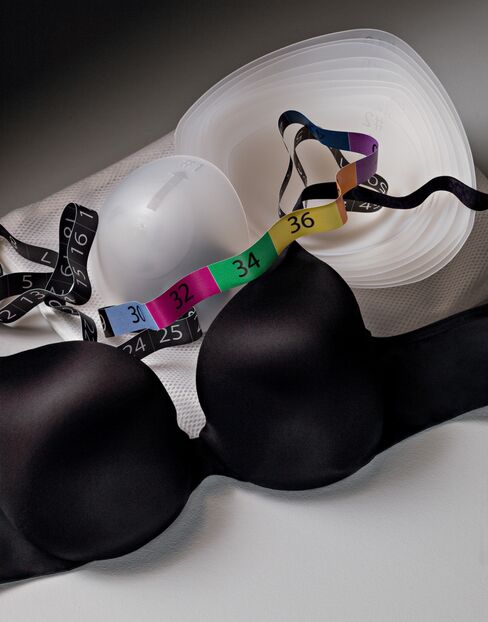 Kristen Sexton is a typical bra shopper: a little grumpy and deeply unsatisfied.
Sexton, 31, shops for new bras every three to four months, and it's often an all-day process as she struggles to find one that flatters and fits. She frequents mass-market chains like Victoria's Secret and Lululemon, eschewing boutiques that would measure her for a better fit but charge $100 for a single bra.
"It is so hard because every store, every brand, every style is different," Sexton, an account manager at MyCheck, a mobile payment startup, said in an e-mail. "It becomes such a hassle and no longer fun."
More than a century after the bra was invented, women are still complaining about a garment that almost all wear and most hate. This isn't exactly a new problem. But bra sales fell 3 percent to $6.5 billion in the U.S. last year. So, to reignite growth, bra makers are shifting away from the push-up bras popularized by Victoria's Secret and emphasizing fit and comfort. Jockey is selling a home-measurement kit that leads to a custom bra, a Hanesbrands' sizing system does away with cups, and Nike and Lululemon are selling new iterations of the sports bra that look prettier and move with the wearer.
The big question is whether efforts to make bras more comfortable are truly innovative or simply a gimmick.
"It has to be innovation beyond the artificial," said Marshal Cohen, chief industry analyst at NPD Group Inc. "You've got to make it worth their while."
Whalebone Corset
New York socialite Mary Phelps Jacob created the first bra in 1914 by sewing together a pair of handkerchiefs. The next big innovation arrived in the 1920s when a pioneering company called Maidenform invented the cup system. The first general exercise bra arrived in 1977; it consisted of two jock straps sewn together. Now, with new fabrics and technology, bra makers are once again going back to the drawing board.
Hanesbrands Inc.'s answer is the ComfortFlex Fit, a line designed to make shopping easier by taking some of the guesswork out of sizing. The bras feature foam padding, do away with underwire in many models and come in extra-small to 3XL. Hanes says the more generic sizing makes makes shopping easier since cup sizes aren't consistent across styles or brands. (It also reduces the number of items Hanes needs to stock.)
Confusing Sizing
While the $9.99 Perfect Coverage version of the bra got an average of 3.8 stars on the Hanes website, some commenters said the sizing was confusing. The line was designed to complement "a woman's bra wardrobe and not meant to be a one-for-one replacement," said Matt Hall, a company spokesman. ComfortFlex Fit products account for about 20 to 30 percent of Hanes bra sales and has grown at a double-digit pace, he said.
Jockey International Inc. says 80 percent of women are wearing the wrong bra size, according to the company's research. To fix that, the company spent eight years developing a volumetric sizing system, scanning the body types of more than 800 women and filing 26 patents.
Women use a fitting kit containing 10 plastic molds and a measuring tape to determine ideal cup and band size. Later, Jockey ships a customized $60 bra, available in black, white and beige. Jockey, which is privately held, declined to discuss the bra's sales. However, some reviewers have called the technology gimmicky and say the 10 plastic molds can't possibly cover the vast range in bust shapes and sizes out there.
Women's growing tendency to wear athletic clothes as street wear -- aka athleisure -- has prompted retailers to rethink sports bras. Last month, Under Armour announced a line featuring three levels of support and gel inserts that add comfort.
Fitting Tutorial
Last year, Nike launched its Nike Pro bra collection (slogan: Get Fit With Us) that offers an online fitting tutorial. The line is a collaboration with Loughborough University, one of the few academic institutions that conducts research on the garment. Lululemon has filed multiple patents to protect its multi-strapped designs, which are more about aesthetics than comfort or support.
The sports bra's growing popularity promoted Victoria's Secret to introduce its own line in 2013 (including push-up varieties that let women show off their cleavage at the gym).
Because bra shopping is such an ordeal, women typically stick with a garment that works well enough. Sexton says she owns six of the same style and only tries something new if her preferred item is discontinued. That's an opportunity for bra makers battling for market share, says Ani Collum, a partner at Retail Concepts, a Boston-based consulting firm.
"There's a lot of brand loyalty," she says. "If people can find one that fits them, they're going to buy it in a lot of colors."
Before it's here, it's on the Bloomberg Terminal.
LEARN MORE