Jaguar Land Rover China Slump Drags Down Tata Motors Profit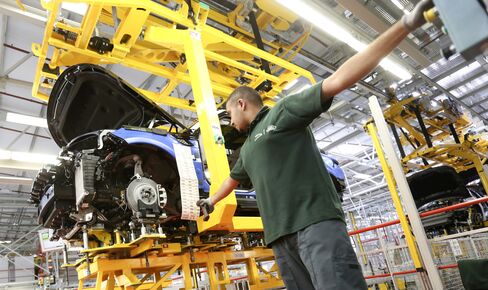 A slump in China sales at Jaguar Land Rover amid a market slowdown dragged down profit at its Indian parent Tata Motors Ltd. for a fourth straight quarter.
Net income fell 49 percent to 27.7 billion rupees ($434 million) in the three months through June, the Mumbai-based company said. That trailed the 31.4 billion-rupee median of 31 analysts' estimates compiled by Bloomberg. Profit at Jaguar Land Rover dropped 29 percent to 492 million pounds ($764 million).
Jaguar Land Rover retail sales plunged 33 percent in China in the quarter, resulting in a 1 percent decline in worldwide deliveries. The luxury unit has cut its sales targets and prices in China as automakers from Toyota Motor Corp. to BMW AG warn about a slowdown in the world's biggest auto market.
"Jaguar Land Rover is the most hit in China because they were the fastest growing premium carmaker," Max Warburton, an analyst at Sanford C. Bernstein Ltd., said by telephone. "It's a broad market problem in China and every carmaker is going to have get used to making less money in China."
Tata Motors' earnings were also hurt by a prolonged slump in sales of its light commercial vehicles in India.
The automaker's revenue fell 5.7 percent to 610.2 billion rupees. Sales at the luxury unit declined 6.5 percent to 5 billion pounds.
Shares of Tata Motors rose 2.7 percent to 393.40 rupees in Mumbai trading on Friday, before the earnings announcement. The stock has slumped 29 percent over the past six months making it the second-worst performer on the S&P BSE Sensex, which has lost 1.7 percent in the period.
Sales of the Evoque sport utility vehicle were lower in China because of the ramp up of local production and "softer market there," the company said in a statement on Friday.
Jaguar Land Rover has forecast sales will climb to a record of more than 500,000 vehicles this year, up from 462,678 units in 2014, helped by new models such as the entry-level Jaguar XE sedan and the Discovery Sport from Land Rover. Sales fell 0.5 percent to 239,212 units in the first half.
Before it's here, it's on the Bloomberg Terminal.
LEARN MORE