Pimco Is Over 'Gross Effect' as Break-Even Nears, Owner Says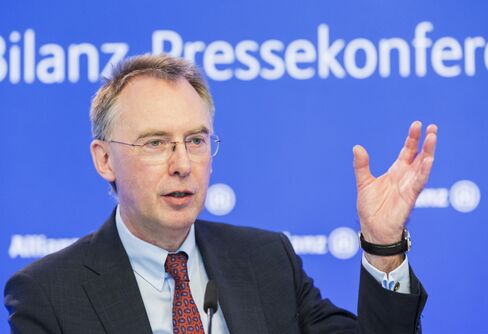 Pacific Investment Management Co. has overcome the departure of bond trader Bill Gross and a record period of outflows from its funds may be on the verge of ending, said Munich-based Allianz SE, the company's owner.
Pimco is planning to "get close to break-even in the third quarter," Allianz Chief Financial Officer Dieter Wemmer said in an interview with Bloomberg TV's Caroline Hyde on Friday. "Some days end up as an inflow, some as an outflow."
Last year's departure of Gross, Pimco's co-founder, extended a record period of outflows from its funds, already battered by low interest rates and mediocre returns. Assets in the Pimco Total Return Fund, which Gross managed, have plunged to $101 billion from a high of $293 billion in April 2013.
Investors pulled $2.5 billion from Total Return in July compared with $3 billion in June, the Newport Beach, California-based firm said on Aug. 4.
"I think we have overcome the Bill Gross effect," Wemmer said. "I think we are now in the tactical or strategic reallocation of monies by our customers."
Douglas Hodge, Pimco's chief executive officer, has said investors are returning to Pimco as uncertainty abates. The "trajectory of flows has changed significantly over the last nine months," he said in June at the Morningstar Investment Conference in Chicago. More than 40 of its funds saw net new client money in July, the firm said this month.
Gross, 71, joined Janus Capital Group Inc. in September last year. The Denver-based money manager is run by his former general counsel and operating chief Richard Weil.
Before it's here, it's on the Bloomberg Terminal.
LEARN MORE