Levy Weathers Impeachment Storm and Dismisses Brazil Downgrade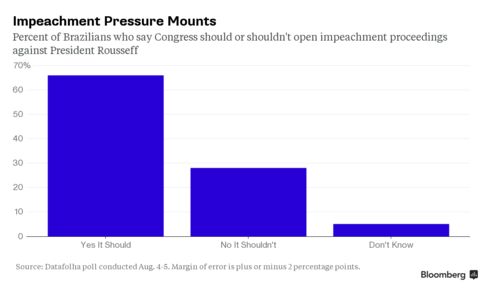 President Dilma Rousseff will finish her term, shore up fiscal accounts and protect Brazil's investment-grade rating. Those were Finance Minister Joaquim Levy's views during a one-hour interview Thursday night.
"I don't see a reason for or benefit from impeachment," he said from his office in Brasilia. "We have a plan and we are making progress every day."
Levy, 54, spoke on a day when Brazil's political and economic crisis escalated. The real hit a 12-year low, Rousseff's approval rating sank to the worst on record and two parties in the lower house of Congress announced their split from the ruling coalition.
Yet Levy showed no signs of tension. Between phone calls, including one from the president inviting him on a trip to the Amazon, the former asset manager cracked jokes, told lengthy anecdotes and chewed on stalks of celery.
He expressed concern when asked about the possibility of losing investment-grade status. Standard & Poor's last week cut the outlook for Brazil's sovereign credit rating to negative, citing the political turmoil. Brazil sits one level above junk.
"If there's a downgrade, do you think it will be good for the financial market?" Levy said. "The financial market would undergo a colossal contraction."
Since joining Rousseff's government in January, Levy has raised taxes, curtailed subsidies and cut discretionary spending. He pledges to reverse last year's primary budget deficit, which excludes interest payments, and slow above-target inflation in a bid to boost investor confidence.
Lawmakers Balk
His fiscal-austerity measures have met with resistance of late as lawmakers balk at the idea of limiting benefits during a recession. The Senate has delayed voting on a bill to raise taxes on sales revenue, while the lower house Thursday opposed the government and voted in favor of a bill to boost wages for attorney general offices.
"Congress goes at its own pace," Levy said. "The fiscal adjustment is moving forward."
Levy says his team hasn't been solely focused on spending cuts and tax increases. He wants to open up Brazil's economy to more imports, sign new free-trade agreements and boost capital markets to fuel growth.
He said the government is working on a proposal to present Congress that goes beyond the fiscal adjustment, focusing on measures that can foster growth such as improvements to the country's infrastructure.
"Our experience in the last 30 years has been one of progress," he said. "When we have a crisis, we tend to come out of it even stronger."
Before it's here, it's on the Bloomberg Terminal.
LEARN MORE