Harper Takes Fire on Pipelines and Economy in Canada Debate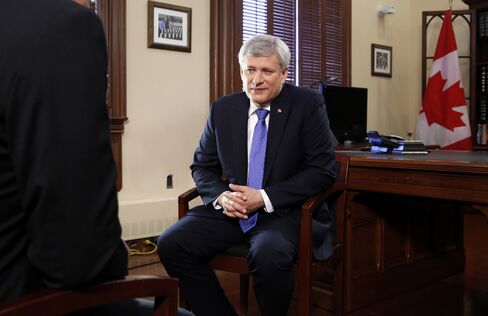 Canadian Prime Minister Stephen Harper came under attack from his two main rivals over pipelines and the economy as they sought to stake their claim for power in the first debate ahead of the Oct. 19 vote.
The debate Thursday in Toronto underscored the three-way logjam in the campaign, with each leader being grilled for specifics on topics such as energy, national unity, terrorism and the Senate. The economy, however, continues to hold center stage in the campaign.
New Democratic Party Leader Tom Mulcair and Justin Trudeau of the Liberals accused Harper of failing to win public backing for the construction of energy infrastructure, while faulting the incumbent Conservative leader for his recent string of deficits and the nation's current economic slump.
"Honestly Mr. Harper, we really can't afford another four years of you," Mulcair said.
The debate came amid a backdrop that includes shrinking output, a weakening currency and two Bank of Canada rate cuts to spur growth. Harper blamed lower oil prices and global weakness for the slump, claiming the economy will soon recover.
Opposition proposals "would kill jobs and they would hurt our economy," the prime minister said.
The NDP leader, who entered the campaign as frontrunner in the polls, appeared to score a concession from Harper early on. Canada is "one month away from a technical definition of a recession but according to a lot of observers we are already in a recession," Mulcair said.
"I'm not denying that," Harper replied.
Campaign Pledges
All party leaders, including the Green Party's Elizabeth May, sought to use the debate to promote their own platforms and campaign narratives.
For Trudeau, that includes a pledge to fund new middle-class tax cuts by raising rates for high-income earners. Mulcair said he would pay for his campaign pledges by increasing corporate taxes "slightly." Harper warned changing government would only undermine the nation's economy.
The debate was hosted by Maclean's magazine, which partnered with Facebook to track user reaction to the debate. The social-media organization found the economy was the most discussed issue and Harper was the most discussed leader, followed by Trudeau, May and Mulcair.
Facebook's data showed Mulcair was least-discussed despite being ahead or tied for the lead in most recent opinion polls. National averages compiled Aug. 2 by polling aggregator ThreeHundredEight.com show the NDP with 33.2 percent of the vote, ahead of the the Conservatives at 31.6 percent and the Liberals at 25.6 percent.
Pipeline Push
The leaders spent more than 20 minutes debating energy policy, with Trudeau criticizing Harper for failing to win U.S. approval for TransCanada Corp.'s Keystone XL pipeline.
"Mr. Harper has turned the oil sands into a scapegoat around the world for climate change," Trudeau said, "and he's put a big target on our oil sands."
Harper said U.S. President Barack Obama never requested Canada take steps on climate change in exchange for Keystone approval, and reiterated a future president will eventually approve the pipeline. He called a price on carbon "a front" designed to raise government revenue.
Mulcair, meanwhile, dodged questions on which pipeline projects he supports and opposes, instead saying Harper has gutted environmental laws. Harper fired back saying the NDP only pays lip service to pipeline projects.
"That is the record of the NDP," Harper said. "They're always for projects until they actually face one, then they're against it."
'Fair Share'
Mulcair confirmed his party's plan to increase corporate taxes, though continued to avoid saying by how much. "Canadians are paying their fair share. Canada's largest corporations are not paying their fair share, and yes, we as the NDP would bring up their taxes slightly," he said.
The parties sparred at length on the issue of sovereignty for Quebec, the heart of French-speaking Canada where previous referendums on separation have failed.
Mulcair demanded Trudeau say what share of Quebeckers would need to support separation for it to proceed. Trudeau demurred, saying he'd follow guidance of the Supreme Court, while Harper said no Canadian wants to have another debate on the topic.
Anti-Terror Law
Canada's scandal-plagued Senate provided flashpoints, with Harper at one point conceding he had urged his senators to vote down a particular law passed in the elected House of Commons. Mulcair, who favors abolishing the upper legislative house, reiterated if elected he would "put an end to this mess once and for all."
With polls showing voters want change, one key issue dividing Mulcair and Trudeau as the best alternative to Harper was an anti-terrorism law, C-51, passed by the Conservatives in the aftermath of a Parliament Hill shooting last fall. Mulcair opposes the law, while Trudeau supports some parts but has planned to change others.
Trudeau acknowledged that "perhaps I was naive" in presenting the Liberal position, but said the party is the only one balancing the need for national security and civil liberties.
'Exceeded' Expectations
Jane Shapiro, head of the crisis communications and issues management practice at Hill+Knowlton Canada, a consulting firm, said Trudeau "proved that he's in it, that he deserves to be in it, and that was the question that was most on peoples minds." While Trudeau entered the debate with low expectations, "he exceeded that moderate expectation."
Speaking to reporters afterward, May said she hoped she demonstrated the Green Party was "not a one issue party." The Greens entered the election with two lawmakers, short of official party status in Parliament.
Harper was the only leader to not speak to reporters afterward.
Before it's here, it's on the Bloomberg Terminal.
LEARN MORE