Half the Gain Gone in Energy Partnerships Bitten by Rates, Oil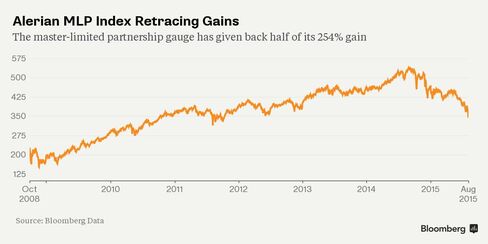 An energy investment vehicle best known for providing reliable cash payouts is running out of gas.
The Alerian MLP Index has retraced half of the 254 percent gain it realized over a six-year period starting November 2008. The gauge, which tracks 50 master-limited partnerships, is 22 percent below its 200-day moving average, the biggest discount to the technical measure since 2009.
The Federal Reserve's expected rate hike by year-end has lessened demand for yield-generating equity assets that may soon find themselves playing catch-up to bonds. Meanwhile, the price of crude oil is back near a six-year low after a three-month rebound, spurring energy companies to continue finding ways to keep profits afloat.
"With the Fed looking to raise interest rates, any bond surrogates are likely to face some pressure," Alan Gayle, director of asset allocation in Atlanta at RidgeWorth Investments, which oversees $43.5 billion, said by phone. "Oil producers are also trying to lower their costs, and are squeezing their service providers as a result."
MLPs, which are structured to operate pipelines without paying federal income tax by passing earnings to investors, have partly been collateral damage amid 13 straight weekly declines for Standard & Poor's 500 Index energy companies. That's the longest streak of losses for the group in data going back to 1989. The Alerian MLP gauge added 0.9 percent at 10:28 a.m. in New York.
ETF Flows
Investors are fleeing an investment that in better times attracts money by combining the tax benefits of a limited partnership with the liquidity of a public company. Since the start of June, around when oil's rebound began to falter, the Alerian MLP ETF has seen $63 million in outflows.
Bulls say the selling has gone too far. The relative strength index for the MLP ETF is at 27.9, below the 30 threshold that some traders view as a point where rallies are likely to materialize. The measure fell to as low as 15.7 on July 1 before rebounding to 50 two weeks later.
Traders are pricing in about a 75 percent chance the Fed will increase rates at or before its December meeting, data compiled by Bloomberg show. The yield on 10-year Treasury notes has fluctuated above 2.20 percent for the past two months after falling as low as 1.64 percent in January.
The recent selloff in the Alerian MLP index "suggests a short-term bounce should develop," Jonathan Krinsky, chief market technician at MKM Holdings LLC, wrote in a July 28 client note. "The old saying 'oversold doesn't mean over' should resonate highly here."
Dividend Cuts
The downturn has led some MLPs to recommend trimming distributions, a sign to Michael Shaoul of Marketfield Asset Management that the prospect of an oversold recovery is dead on arrival.
LINN Energy LLC plunged 26 percent to its lowest level since trading started in 2006 after announcing plans on July 30 to halt investor payouts. LinnCo LLC, a separately traded entity created by LINN in 2012 for the sole purpose of owning LINN shares, also dropped to an all-time low amid plans to halt its dividend.
"The idea that lower oil prices were not a problem for those providing service has proved to be fallacious," Shaoul, chief executive officer at New York-based Marketfield, which oversees $5 billion, said in a client note Thursday. "We have started to see dividend cuts appear in this space, which is generally the death knell for any income-based sector."
Before it's here, it's on the Bloomberg Terminal.
LEARN MORE