Ambev Leads Brazilian Stocks Lower as Central Bank Supports Real
Bond risk rises to highest since 2009 amid budget turmoil

Currency ends six-day losing streak as Brazil intervenes
Ambev SA led Brazilian stocks lower as faster-than-forecast inflation damped prospects for the brewer and other companies that depend on consumer demand.
The real ended a six-day losing streak, climbing from a 12-year low after the central bank stepped up support for the currency and cautioned that its plunge over the past year wasn't justified. Bond risk rose to the highest since 2009 as political turmoil, a burgeoning government corruption probe and a contracting economy threatened efforts to pare budget deficits and avoid a junk credit rating.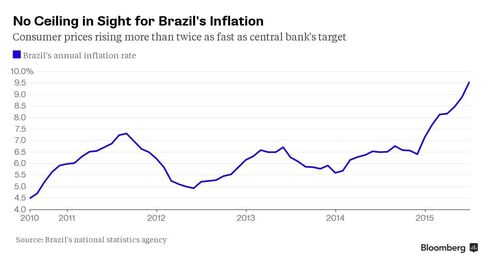 The Ibovespa fell 2 percent to 48,990.38 at 12:18 p.m. in Sao Paulo, extending its drop this week to 3.7 percent. Shares of Ambev slid 1.8 percent, contributing the most to the gauge's decline. The cost of protecting Brazil's bonds against nonpayment using five-year credit-default swaps soared to 3.28 percentage points. The real appreciated 0.7 percent to 3.5106 per U.S. dollar.
"The prolonged recession scenario is already a given," said Ignacio Crespo, an analyst at Guide Investimentos in Sao Paulo. "The political crisis will be extended and risk aversion may prevail in medium term."
State-controlled Petroleo Brasileiro SA declined 3 percent as the company at the center of the corruption probe reported earnings that trailed forecasts.
The real has fallen 24 percent in 2015, the biggest retreat among 31 major currencies tracked by Bloomberg. It tumbled 9 percent in July as Standard & Poor's changed its outlook on Brazil's debt to negative, indicating it may reduce the nation's credit rating to junk from the lowest level of investment grade.
Moody's Investors Service, whose ranking for Brazil is one step higher, put the nation on negative outlook in September. Analysts from the rating company visited Brazilian central bankers last month.
The central bank extended the maturity on 11,000 foreign-exchange swap contracts supporting the currency Friday, up from 6,000 contracts daily earlier this month.
"The current level of the exchange rate is way above what could be explained by the economic fundamentals of Brazil, even taking into account the delicate political situation," Monetary Policy Director Aldo Mendes said Thursday, according to a statement read by his press office over the phone.
Before it's here, it's on the Bloomberg Terminal.
LEARN MORE