Zurich Drops Most in Four Months as Profit Unexpectedly Falls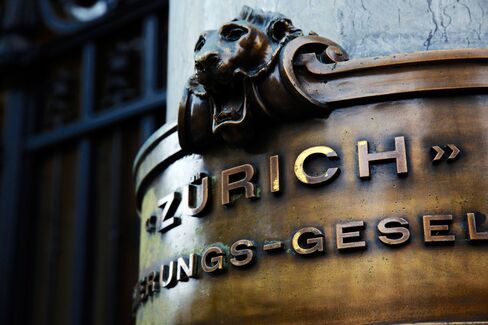 Zurich Insurance Group AG, the Swiss firm considering a bid for the U.K.'s RSA Insurance Group Plc, slumped after reporting profit that missed analyst estimates on a decline in earnings from general insurance.
The shares dropped 5 percent to 283.3 Swiss francs at 5:20 p.m. in Zurich trading, the biggest loss since April 7 and wiping 2.2 billion francs ($2.24 billion) off the firm's market value. The 35-member Bloomberg Europe 500 Insurance Index fell 0.1 percent.
Net income in the second quarter unexpectedly fell to $840 million from $848 million a year earlier, Switzerland's largest insurer said in a statement on Thursday. The average of six estimates compiled by Bloomberg was for a profit of $926 million.
"The profitability of our general insurance business was adversely affected by large losses, particularly within global corporate and the U.K., and a higher expense ratio," Chief Executive Officer Martin Senn said in the statement. "The positive trend in global life and Farmers has continued, with these businesses delivering good results."
Senn, who is weighing a bid for RSA that would increase Zurich's market share in the U.K. and Scandinavia, has also sold businesses and improved efficiency as insurers struggle with low interest rates and pressure on prices. In May, he announced Zurich would cut costs by an annual $1 billion by the end of 2018.
Return on equity based on operating profit after tax dropped to 10.2 percent from 11.4 percent a year ago. Zurich targets a range of 12 percent to 14 percent by the end of 2016.
Big Losses
Profit at the general insurance unit slid 43 percent to $460 million. The global corporate business in North America had the most large losses from events triggering insurance payments for any half-year since 2008, Chief Financial Officer George Quinn said in prepared remarks for an investor presentation. On top of that came the effects of two fires in the U.K., he said.
Zurich's takeover of RSA would be the biggest in Senn's tenure and could herald a possible revival in mergers among European insurers, crimped by tighter regulation and the debt crisis. Senn may face competition from rivals including Allianz SE, Europe's biggest insurer.
"We believe that a transaction could bring significant benefits to us and to our investors," Senn said. "In terms of the complementary fit of RSA's business with our own operations, and in terms of financial benefits from, for example, expense and other synergies," he said.
Senn is in the process of raising more than $4 billion to finance a possible purchase of RSA, people familiar with the matter said last week. The firm reiterated in May that it had $3 billion in cash to use for acquisitions or to return to shareholders.
Before it's here, it's on the Bloomberg Terminal.
LEARN MORE