The Formula One Boss, the Tax Probe and the Quiet English Lawyer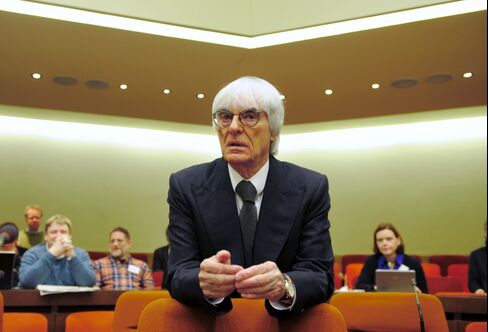 When Stephen Mullens started working with Formula One chief Bernie Ecclestone in the 1980s, he was a partner at a small London law firm in an unassuming office around the corner from what's now a McDonald's.
By the time the pair fell out in 2009, Mullens was a multi-millionaire. He'd also seen the inner workings of Ecclestone's glamorous motor racing series and his family fortune.
Now Mullens, 66, is key to Ecclestone's 1 billion-pound ($1.6 billion) tax fight with the British government, according to documents filed in a London court. What he knows and what he's willing to tell Her Majesty's Revenue & Customs as the case unfolds is unclear because, as a London judge put it last year, he's not one to give much away.
Mullens was one of Ecclestone's closest advisers, said Nickolaus Becker, the former chairman of German media company EM.TV AG, which once held a stake in Formula One. "He was his alter-ego," Becker said in a phone interview.
Ecclestone, 84, filed multiple lawsuits this year to stop the tax authority tearing up a 2008 settlement and handing him a new bill linked to a family trust called Bambino.
His former wife, Croatian model Slavica Ecclestone, agreed that year to pay 10 million pounds to end HMRC's probe into the assets, according to Ecclestone's court documents filed in April. He says the tax authority can't go back on the deal now. HMRC officials declined to comment.
Trust Issue
At heart, it's a dispute about two different versions of history. In Ecclestone's, he "gifted" his shares in Formula One group companies nearly 20 years ago to Slavica, who put them in a trust that Ecclestone says he can't access.
"They think that I was running the trust, but it was nothing to do with me," Ecclestone, who became a billionaire by acquiring the commercial rights to Formula One in 1995 and then sold stakes in them, said in a July 29 phone interview.
HMRC argues that Ecclestone could and did benefit from Bambino and should pay taxes accordingly. The government says he did so in part through his close relationship with the trust's lawyer: Mullens.
Ecclestone, who was notified of the renewed interest from HMRC in December, denies Mullens was helping him. "He was doing what he had to do," Ecclestone said.
HMRC has approached at least two former Formula One executives this year seeking information and documents about the business relationship between Ecclestone and Mullens, two people with direct knowledge of the situation said. They asked not to be identified because the investigation is private.
Not Here
If Mullens is willing to help Ecclestone, or HMRC, or would just prefer to stay out of the tax dispute, he isn't saying. He didn't respond to attempts to reach him through his former lawyers and a friend. His page on the Law Society registry of solicitors doesn't have an address, e-mail or phone number.
The U.K. companies registry lists an address for Stephen John Mullens at the central London building occupied by his old employer, Marriott Harrison. The law firm confirmed by e-mail that Mullens kept an office there, though said it was separate.
An employee at the front desk said Mullens was on the first floor. There, a man with gray hair and glasses answered a glass door with no sign identifying the business. He asked what the enquiry was about and said Mullens wasn't there.
Two Cases
It was a German bribery prosecution and a related lawsuit in England that led the British tax office to re-open its file on Ecclestone because he testified that Bambino had made some of the payments being investigated and that Mullens had helped him.
Ecclestone paid $100 million to end the German prosecution without any admission of guilt in 2014. Mullens was also charged in connection with the case and paid 1 million euros ($1.1 million) to end the probe into his role, without admitting any wrongdoing, a German court official said.
In a lawsuit brought in London by former Formula One investors against Ecclestone, Judge Guy Newey said that Ecclestone had paid a bribe and Mullens was complicit. Ecclestone, though, won the case because Newey said the bribe hadn't affected the price of a transaction that was the subject of the allegations. The judge also noted Mullens's demeanor.
"I cannot view Mr. Mullens as a reliable, or even a truthful, witness," Newey said in the February 2014 ruling. "He gave the impression of wishing to give little away."
Divided Loyalties
Mullens testified in the U.K. trial that the payments from Bambino were made to a German banker who was threatening to interfere with HMRC's probe into Ecclestone and the trust.
He said he acted on instructions from Bambino's directors and that "it was not the case that Mr. Ecclestone and Bambino were one and the same."
The question of who Mullens worked for and where his loyalties lay is complicated.
Mullens got fees of 400,000 pounds to 600,000 pounds advising Slavica and the Bambino trust, HMRC said in court documents. The Ecclestones divorced in 2009, the year Mullens's relationship with Bernie broke down.
In 2006, Mullens declared to HMRC a $38 million gift from Slavica along with a further $19.5 million in 2008, the documents show. He stopped working for Bambino in 2010 after Slavica sued him over an unpaid loan. It never reached court.
A year later, he was removed from the Formula One company boards he sat on. When Mullens's family home was burgled in April 2009, he told Judge Newey he thought Ecclestone might have been responsible. "It crossed my mind," Mullens said.
Before it's here, it's on the Bloomberg Terminal.
LEARN MORE